Today at the Social Media Strategy Summit, along with Kaite Stover, Director of Readers' Services at the Kansas City Public Library, I'm presenting a fun case study. The presentation is about how the Kansas City Public Library was able to "sponsor bomb" the 2015 Major League Baseball Playoffs and World Series with a book spine poetry campaign.
In short, the Library used images of multiple stacked books chosen so that the combined titles communicated messages to tweak the baseball teams (and the libraries in their communities) with pro-Kansas City Royals messages.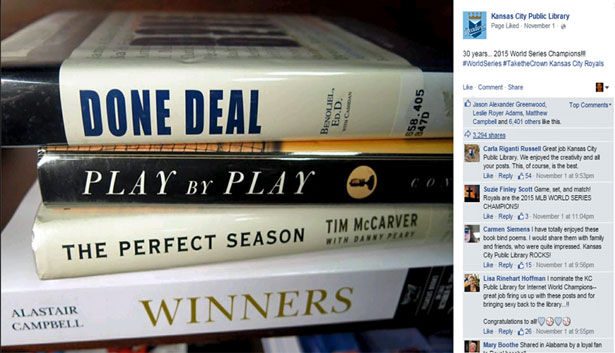 BTW, did I mention the Kansas City Royals are the 2015 World Champions? Just checking . . . wanted to make sure you knew that!
While The Brainzooming Group wasn't involved in developing the social media strategy behind the World Series sponsor bomb, we've been working with the Library on branding and event strategy. Knowing how smart the social media strategy for the World Series sponsor bomb campaign was, we brought the story and the tremendous impact from the initiative to the attention of Breanna Jacobs, the Social Media Strategy Summit producer.
Kaite will cover the Kansas City Public Library social media strategy and implementation from start to finish. I'll share lessons for other brands in how they might envision comparable sponsor bomb opportunities for their own brands.
Social Media Strategy - 5 Keys to Sponsor Bomb a High-Profile Event
If you aren't with us in Chicago, here are the smart things the Kansas City Public Library did to make the strategy as effective as it was:
Maximizing the formula for compelling content.
Thinking ahead to the potential twists and turns in the story development.
Being ready to address the event's outcomes in a timely manner.
Extending the initiative's reach through involving other parties (i.e., tagging libraries in the cities of the teams the Royals played) and picking an event that lasted more than one day (esp., since the Royals went all the way through the playoffs and World Series).
Here's hoping the Royals go all the way again in 2016 so we can see what the Kansas City Public Library does with the next chapter of its book spine poetry sponsor bomb strategy! - Mike Brown
When was the last time you invested 45 minutes to check your social media strategy?
Is your social media implementation working as well as it can? In less than 60 minutes with the new FREE Brainzooming ebook "9 Diagnostics to Check Your Social Strategy," you'll have a precise answer to this question. Any executive can make a thorough yet rapid evaluation of nine different dimensions of their social media strategies with these nine diagnostics. Download Your Free Copy of "9 Diagnostics to Check Your Social Strategy.