Shaq's Twitter-based retirement announcement plus getting ready for my social media strategy presentation next week to the Transportation Marketing and Sales Association triggered today's post. One day on Twitter Chris Brogan tweeted a request for a link to Shaq's post about Twitteronia. I jumped on the request and found the link for this tweet of Shaq's I'd never seen before:
"To all twitterers, if u c me n public come say hi, we r not the same we r from twitteronia, we connect"
(February 19, 2009, 3:37 pm) from @THE_REAL_SHAQ
Having found it, Shaq's Twitteronia tweet immediately went into all my social media strategy presentations. It was only this week, however, when updating the presentation that it occurred to me that in one tweet, Shaq summed up just about everything we use in defining the characteristics a social channel has:
He's overtly seeking interaction and collaboration – a dramatic, new change for a celebrity who'd you'd expect to avoid in person encounters with those outside his close circle.
He acknowledges the common bonds of Twitter users.
His network members are encouraged to identify themselves.
And it's clear that minimal technical (and grammatical) expertise is needed to participate in Twitteronia.
Talk about brevity! THAT's Twitteronia! – Mike Brown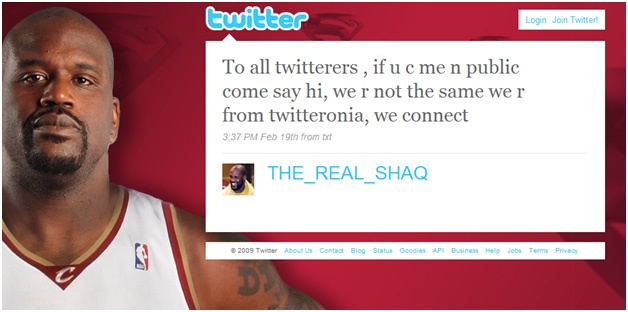 The Brainzooming Group helps make smart organizations more successful by rapidly expanding their strategic options and creating innovative plans they can efficiently implement. Email us at brainzooming@gmail.com or call us at 816-509-5320 to learn how we can help you enhance your social media strategy and implementation efforts.