I've come to believe the Minneapolis-St. Paul Airport (MSP) is the home of bad signage.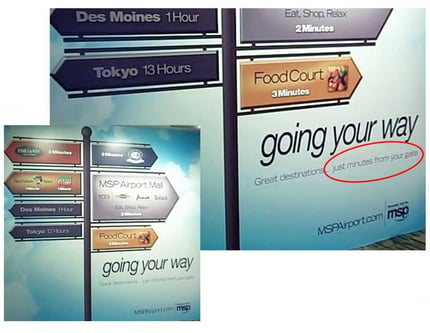 From the incredibly vague, confusing signs on the long trek to the rental car area to the terminals seeming to be referred to as "Lindbergh" and "Humphrey" inside the airport, but "Terminal 1" and "Terminal 2" outside, it's clearly not the most passenger-friendly airport I've visited in my travels.
This sign, although not a significant nuisance like the crappy rental car or terminal signage, still caught my eye while waiting for a flight last week. The headline is all about the conveniences just minutes away inside the airport for shoppers and diners, yet the graphic goes beyond the food court and shopping down the hall to include Des Moines and Tokyo for whatever reason. The length of time to travel to both of these locations, however, is shown in hours.
Huh? I thought the whole thing was about being MINUTES away.
This is a great example of why you should want people who don't have apparently strategic jobs to still be able to step back and make strategic connections in their work.
If the designer creating the sign is the last stop in the decision chain on this sign, then I'd want the designer to have enough wherewithal to raise a hand and say, "Hey, these times for Des Moines and Tokyo should be in minutes too!"
It's not hard people:
Pause.
Stand back (physically or virtually).
Fix the stuff which doesn't make sense.
Got it? – Mike Brown
The Brainzooming Group helps make smart organizations more successful by rapidly expanding their strategic options and creating innovative plans they can efficiently implement. Email us at brainzooming@gmail.com or call 816-509-5320 to learn how we can get your staff Brainzooming through tailored training and exercises to be better strategic thinkers and implementers!