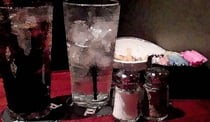 In my on-going efforts to save readers from watching reality TV shows to glean important life lessons, I dove into a "Restaurant Impossible" marathon last Sunday on the Food Network. Hosted by Robert Irvine, the one-hour show features restaurants at the brink of failure. Robert Irvine puts each failing restaurant through a 2-day, $10,000 last chance makeover. These boot camp-oriented turnarounds got me thinking about how lessons from "Restaurant Impossible" could serve as "repair your blog" tips if yours is in need of a turnaround (or at least some significant improvements).
9 Lessons from Restaurant Impossible to Help Your Blogging
1. A restaurant has to look appealing to get people to eat there.
Repair Your Blog Tip: Does your site look appealing and do readers want to stick around to view a variety of content?
2. A successful chef has to know what ingredients surprisingly go together and which do not.
Repair Your Blog Tip: Are you using the same old ingredients on your site or are you bringing in new and unusual combinations of social media content and interactive elements?
3. Strong restaurants have a few signature dishes people remember and return for repeatedly.
Repair Your Blog Tip: What are the couple of types of topics providing dependable go-to social media content for you and your readers?
4. You have to sample the food coming out of the kitchen.
Repair Your Blog Tip: You cannot judge your site only by how it looks on the website. Subscribe to and review it via email, RSS, and all the other types of places your content appears online.
5. If you do not know your food costs, your restaurant will never make a profit.
Repair Your Blog Tip: Do you have a good handle on important metrics for your social media effort? Do you know what readers are responding to and how much time they are spending with your content?
6. Successful restaurants have a "Wow" factor at the door.
Repair Your Blog Tip: When new and returning readers hit a landing page, what intriguing, sticky content greets them?
7. When a restaurant misses the little details, it seems as if the restaurant does not care about anything.
Repair Your Blog Tip: Step way away to see what details you may be missing. Ask some people who do not read your posts everyday about their perceptions of little details you might be missing.
8. Even when you are up and running, you have to practice new things.
Repair Your Blog Tip: Are you trying new styles of designing, writing, and creating content? This may mean investing time practicing and developing new elements that never see the light of day.
9. Every "Restaurant Impossible" projects lasts 2 days with a $10,000 budget - when most should take 6 months and cost hundreds of thousands of dollars.
Repair Your Blog Tip: If you confined your blogging turnaround to 1 weekend and only what you could do for $100, what magic could you make happen with your content and how it's presented?
Well?
Which of these lessons and blogging tips hit home for you? Are there one or two lessons you will be working on changing this weekend? – Mike Brown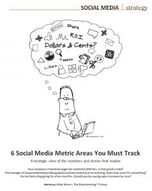 If you're struggling with determining ROI and evaluating its impacts, download "6 Social Media Metrics You Must Track" today! This article provides a concise, strategic view of the numbers and stories that matter in shaping, implementing, and evaluating your strategy. You'll learn lessons about when to address measurement strategy, identifying overlooked ROI opportunities, and creating a 6-metric dashboard. Download Your Free Copy of "6 Social Media Metrics You Must Track!"