January 28th is, according to a Facebook post from my cousin's husband, National Fun at Work Day. A quick check corroborated his claim, although there are questions about where the holiday originated. Since my cousin's husband has worked at the same company for forty-two years or something, I'm willing to believe his post: if you've worked in one place for four decades, you have to know a little about fun at work, even when the holiday falls on a Sunday this year.
One great way to celebrate National Fun at Work Day? Download our FREE eBook on eleven ideas for fun strategic planning that are not stuffy for work.
We released this eBook for the traditional strategic planning season. We're, however, finding that demand for fun strategic planning ideas now runs throughout the year. This fun strategic planning eBook tells how to incorporate surprise, new situations, and toys to bring life to ANY strategy meeting you conduct throughout the year.
Speaking of toys, we always say they don't make strategy great, but they do make strategy fun. Fun strategy leads to greater interest in strategic planning and more opportunities for innovative strategy!
11 Tips for Fun Strategic Planning with Toys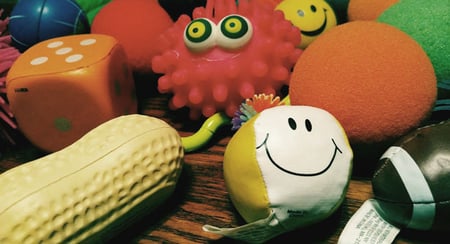 If you are trying to figure out what toys are best at meetings, here are our 11 tips for including all the types of toys to include at strategy meetings.
You want toys that:
Allow participants to build things
Twist into different forms
Have bright colors
People can squeeze
Make sounds
Bounce
Stick to things
Are so inexpensive that you can have lots of them
Will make the people at the table that doesn't have them jealous
People can safely throw at each other during tense moments
Participants will want to take along at the end of the meeting
Toys rekindle kid-like creativity among haggard executives. They give fidgeters something to fidget. Toys (particularly balls) give more aggressive types something to harmlessly throw. Most importantly, though, toys are one aspect of demonstrating that strategic planning needn't be a completely serious, mind-numbing experience for executive participants.
Download 11 Not Stuffy for Work Ways to Spice Up Strategic Planning today. You'll be ready to make EVERY DAY National Fun at Work Day! – Mike Brown