That happens when strategic planning becomes too complex, gets detached from real business issues, or the whole process focuses on trying to complete cumbersome strategy templates. Then people start dozing off. Later you discover that your strategic planning was more successful at producing ZZZZZZZZZZs than $$$$$$$$$s.
Yes, strategic planning processes are commonly snoozefests, but they needn't be!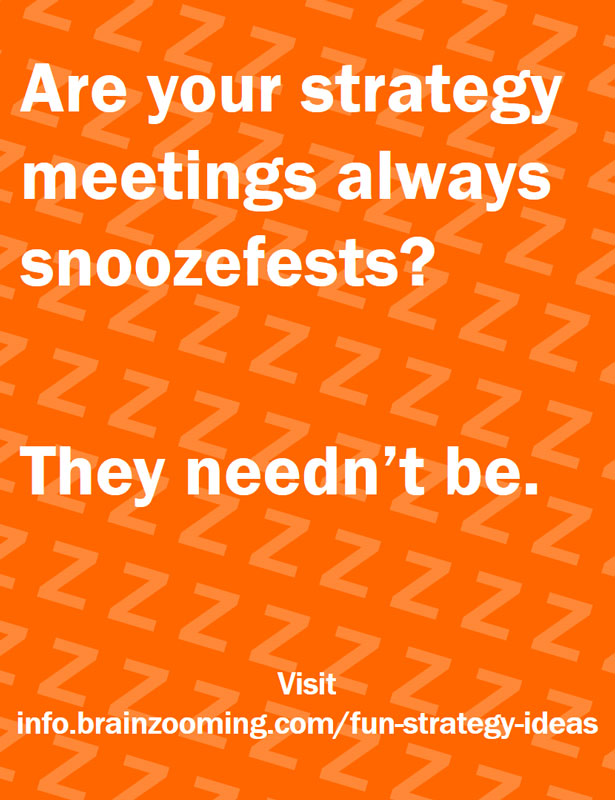 To avoid it, it's vital to break out of the typical strategic planning process formula where it's all about the same old people, the same old strategy exercises, and the same old expectations to just get a plan done so it can sit on the shelf with other strategies while the organization keeps doing the same old things.
If you've been frustrated in your efforts to challenge the strategic planning status quo, we have good news: There's hope, and you can change all the bad things about how a boring strategic planning process! There are actually many fun strategic planning ideas that you can start implementing for next year's planning!
Step one in the process is to download 11 Ideas for Fun Strategic Planning! This eBook has become a go-to guide for thousands of executives globally to explore fun strategic planning ideas. You can use this eBook to enliven strategy meetings through a focus on important business issues, productive strategy exercises, and enough fun to keep EVERYONE engaged in creating a plan that creates success and all those other things that more $$$$$$$$$$s create.
If you don't have 11 Ideas for Fun Strategic Planning, get your copy today!