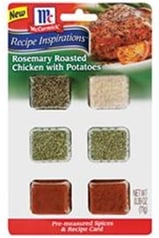 If you sell a product that was the driving force behind much of world exploration, you might choose to leave well enough alone when it comes to innovative packaging strategy. I noticed recently, however, that category leader McCormick & Co. isn't doing any such thing as it introduces some new creativity to its packaging strategy.
We all get that herbs and spices really improve the taste of our favorite dishes and make our not so favorite, but healthier, dishes more palatable. But many of us don't cook enough to use up the traditional bottle of spice in 2 or 3 years before the contents lose their punch. If your kitchen is like ours, you have bottles of spices that have been there since before there was such a thing as a blog, much less a tweet.
McCormick is displaying new creativity in this area through a new Recipe Inspiration that is an innovative packaging strategy doing away with the bottle altogether. In an innovative way, it also does away with problem of not having the right spices for a recipe or having those spices be stale. They give you the recipe and the spices you need in the quantity you need them. It's a fantastic example of creating value by giving you less product, but delivering the product with creativity in a more convenient and usable configuration.
I don't know if this new packaging innovation strategy will be a success, but it surely won't be because McCormick kept its packaging creativity bottled up. - Barrett Sydnor
The Brainzooming Group helps make smart organizations more successful by rapidly expanding their strategic options and creating innovative plans they can efficiently implement. Email us at info@brainzooming.com or call us at 816-509-5320 to learn how we can help you enhance your strategy and implementation efforts.