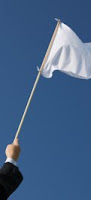 Face it: there are a bunch of expectations placed on each of us that, quite frankly, are completely arbitrary.
Oh sure, someone (maybe even someone very important) thinks they're absolutes. Yet relative to what's really important (i.e., strategic), there's more whimsy than criticality in the request.
What can you do when presented with tasks, duties, or expectations that fall into this category?
Ask the fundamental question: "What are we trying to achieve?" Invite the other party to participate in answering it to develop a more refined sense of what's strategic.
Suggest more innovative or workable alternatives that still deliver on what you are trying to achieve.
Be prepared to creatively negotiate and develop a mutually-agreeable approach.
Don't discount that doing nothing could be the best answer for whoever is requesting you do something that doesn't really matter.
Give this approach a try to better expend your efforts on things that will legitimately make a difference. - Mike Brown