This past weekend CityCampKC, the Kansas City version of the international unconference, focused on innovative strategies in Kansas City for municipal governments and community organizations. The event culminated in a CityCampKC hackathon with a sold-out crowd of programmers and non-programmers working on developing an app to help metro residents and visitors better bike, walk, and use public transit.
Before the hackathon, however, there was morning of presentations that included lots of innovative ideas and sources. I picked out nine innovative strategies showcasing cool people, places, and things at CityCampKC that struck me as particularly interesting: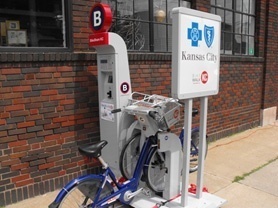 1. BikeShareKC – Sarah Shipley gave a high energy, visually intense presentation about the new public transportation option that is coming to Kansas City in June.
2. They've Got It, You Want It, How to Get It – David Herzog, associate professor at the University of Missouri School of Journalism, detailed OpenMissouri.org, a tool the jschool has developed to help connect citizens to data that is stored offline by state and local government.
3. Ten Things about Troost – There are lots of innovative things happening along Troost Avenue, long something of a racial border within Kansas City. One of the ten was the the greatest community service operations you can imagine, Operation Breakthrough.
4. Aaron Deacon and the Ecosystem – Aaron Deacon of The Curiolab talked about "New Models of Civic Progress: Infrastructure + Ecosystem." Very interesting points he made about using technology to make us both individually and collectively more productive rather than just consumptive.
5. Embrace the Flyover – Jabbar Wesley wants us to show that innovation, particularly multicultural innovation, does not just occur on the coasts. To demonstrate this, Jabbar Wesley and his organization, Social Feen, are putting on Novel Day 2012 this November.
6. SeeClickFix – See a problem in your neighborhood, report it with a few clicks and then track when/how it gets fixed.
7. A Streetcar Named Twitter – New applications of mass transit have been virtually dead in Kansas City for decades. Now it looks like there is at least a chance streetcars in Kansas City may be coming (back) to downtown. Streetcar Neighbors used Twitter and Facebook to build support for a plan that would allow a vote to fund streetcars in Kansas City through a special taxing district.
8. You can go to Harvard and/or MIT – Big deal universities are offering online courses, often for free. LABx, founded by Darrin Ragsdale, is helping flip the classroom with OpenCourseWare technology support for Harvard's Introduction to Computer Science, CS50, with support for more classes to come.
9. Shareabouts – The platform used to build the app that resulted from the CityCampKC hackathon. –Barrett Sydnor

How can ultra high-speed internet speeds drive innovation? "Building the Gigabit City: Brainzooming a Google Fiber Roadmap," a free 120-page report, shares 60 business opportunities for driving innovation and hundreds of ideas for education, healthcare, jobs, community activities, and more. Download this exclusive Google Fiber report sponsored by Social Media Club of Kansas City and The Brainzooming Group addressing how ultra high-speed internet can spur economic development, growth, and improved lifestyles globally.