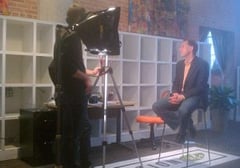 After The Brainzooming Group released our "Building the Gigabit City: Brainzooming a Google Fiber Roadmap" report last November, BBC reporter David Botti emailed me about talking during a trip to Kansas City to report on Google Fiber reactions.
The initial trip was postponed, but David Botti and Daniel Nasaw from the BBC arrived in Kansas City in early February to report the story. Along with Aaron Deacon of CurioLab, we met David and Daniel at Aaron's office to discuss the implications of Google Fiber for Kansas City, along with findings from the Gigabit City report addressing hundreds of ways to take advantage of the introduction of Google Fiber in Kansas City.
David and Daniel completed their reporting, and the BBC released its Google Fiber story online this week, along with the video below highlighting perspectives on Google Fiber from a variety of Kansas City citizens.

You can find the full Google Fiber article on the BBC website.
If you have not downloaded our free 120-page "Building the Gigabit City: Brainzooming a Google Fiber Roadmap" report yet, it is a great time to do so now. People worldwide have downloaded the report to learn more about the gigabit future for Kansas City. They are also gaining valuable insights into how ultra high-speed Internet speeds will drive innovation, community change, and economic development in communities globally. The Gigabit City report contains hundreds of ideas, concepts, and critical success factors for governments, educational institutions, and other businesses and organizations to consider and exploit as ultra high-speed Internet becomes more prevalent in the future.
We also just released a recap of the Brainzooming methodology we used to bring together hundreds of online perspectives and a 90-participant in-person Brainzooming session to create the Gigabit City event and report. If you have been curious about what we do (which I am finding a variety of long-time readers are), this new recap shares how we created an efficient and productive day for all our Gigabit City participants. You can get a copy of the overview by emailing us at info@brainzooming.com.
Watch for more details soon on another effort The Brainzooming Group is in the midst of planning which will involve local and global experts in Gigabit City-related discussions to further develop Gigabit City ideas. - Mike Brown

How can ultra high-speed internet speeds drive innovation? "Building the Gigabit City: Brainzooming a Google Fiber Roadmap," a free 120-page report, shares 60 business opportunities for driving innovation and hundreds of ideas for education, healthcare, jobs, community activities, and more. Download this exclusive Google Fiber report sponsored by Social Media Club of Kansas City and The Brainzooming Group addressing how ultra high-speed internet can spur economic development, growth, and improved lifestyles globally.