Want to fast track your innovation strategy?
If you answered, "Yes," here's a strategic model to explore the opportunity of having different types of tracks (literally) for your innovation strategy.
The NASCAR racing world is focused on Charlotte Motor Speedway right now since these two weeks in May are the unofficial homecoming for NASCAR in the city where most race teams are located. Charlotte Motor Speedway is a large racing complex, with three separate auto racing configurations:
The Dragway - A straight, quarter mile drag strip for short, very high-speed races run multiple times per day
The Dirt Track – A short, clay oval track for aggressive races where both younger and older drivers race in a more rough and tumble fashion
The Superspeedway – A 1.5 mile oval track for longer auto races with drivers at the highest levels of their profession in both skill and endurance
Three tracks for three types of racing could be a model for accommodating a brand's differing innovation strategy objectives.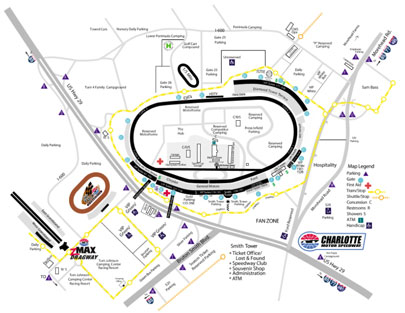 3 Tracks to Fast Track Innovative Ideas
Consider these track options to fast track innovative ideas for your brand's innovation strategy:
The Innovation Dragway
This innovation track is for obvious, tactical innovations to improve processes and less visible aspects of the brand. On this track, the objective is to quickly clear vetting hurdles most other potential innovations have to pass since these ideas should have a higher probability for successful implementation. All these ideas many not find quick success; it's still a numbers game. Many of these innovations may fall short of reaching full expectations. But because the downside of failure is slight or a quick failure will yield a disproportionate amount of learning, it's all about blasting these innovations through the process quickly.
The Innovation Dirt Track
Another innovation strategy track is for rough and tumble innovation. These raw ideas have promise, and some wild possibilities could lead to disruptive innovation. The objective is quickly mocking up these ideas to explore the potential impact on your core business from these wild ideas before a new competitor does. The priorities are prototyping these ideas, putting early versions into peoples' hands, and making decisions on how to move them forward, morph them, shelve them, or abandon them. The development process may be less precise because the emphasis is TRYING and DOING things that wouldn't progress in a more formal setting. If an idea DOES look BIG on this track, however, expect to take it to the next innovation strategy track for more development.
The Innovation Superspeedway
On this innovation track, things are more methodical and deliberate. This is the big innovation stage. The implications of both successes and failures are much more significant. With more steps in the innovation development process there fewer winning innovations. The winners that do emerge from the process get more dollars, attention, and support behind them. With fewer concepts making it to the end, there is also a higher probability of success when these innovations are implemented.
Innovation Strategy for Varied Innovative Ideas
Is your brand ready for a three-track innovation strategy?
While this three-track approach isn't right for all brands, the idea of having an innovation dragway and dirt track may be the answer to get innovations moving and having an impact much more expeditiously than if each idea is forced onto a single track that may not suit its development. – Mike Brown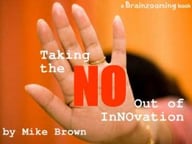 Download the free ebook, "Taking the NO Out of InNOvation" to help you generate fantastic creative thinking and ideas! For an organizational innovation success boost, contact The Brainzooming Group to help your team be more successful by rapidly expanding strategic options and creating innovative plans to efficiently implement. Email us at info@brainzooming.com or call us at 816-509-5320 to learn how we can deliver these benefits for you.