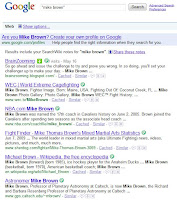 I was followed recently on Twitter by @FollowMikeBrown who is carving out "a place to follow all the Mike Browns in the World."
Talk about a focused niche.
Based on the website How Many of Me, there are 32,000 Mike and Michael Browns in the US, with another 1,050 Miguel Brown/Morenos, and 4,000 Michelle Browns. The day he followed me, there were more than 250 Mike Brown's on the list. I'm not sure if any prizes are involved, but I'm definitely intrigued by how things will progress.
So here's a question: How many focused niches can you strategically subdivide your business into successfully & cost-effectively? And can you start an innovative community for your niche that feels as personalized and comfortable as @FollowMikeBrown does for me? - Mike Brown