As usual, last Saturday's #Ideachat on Twitter was a fantastic hour hosted by Angela Dunn, with this month's topic on creative spaces. Angela led us through an #Ideachat discussion on how physical spaces affect our creativity.
This has been an occasional topic on the Brainzooming blog, although our focus is more frequently on what helps boost creativity in specific situations vs. what instigate creativity in certain locations.
Surroundings definitely matter to my creativity, not so much for their impact on the ability to come up with ideas as my creative disposition.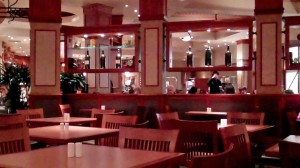 For me, great creative spaces are very open, allow creative tools to function easily (and well), and provide the opportunity to look at what I'm working on from multiple angles. Great creative spaces have a lot of square footage per person, giving the mind room to wander (and wonder). Many business people use Starbucks and Panera as office getaways, but for me, these are spaces, but not creative ones.
It's not because they're noisy, because I do like noise most of the time, too.
My wife marvels at me having a TV going, maybe music, and the social networking channels open while I'm working on something else. These noise sources compensate for too infrequently having people around in person. I'm more creative when collaborating since I'm always smarter and more creative when smarter & more creative people are around. And it's beneficial to be with someone in person because you get the full set of creative cues going back and forth when everyone is together.
Even distractions can work for me in the creative process if they're somewhat relevant to what I'm working on at the time.
Restaurants are some of my favorite creative spaces, especially ones with white paper table cloths all ready for drawing with Sharpie markers. Although it doesn't have the paper table cloths, Nordstrom Café is a great creative space for me; must be something about all that open space (as shown here).
Ultimately, you can't move a creative space around with you. That's when creativity tools and exercises come into play. They're portable and can help instigate creativity even when the surroundings are lacking.
Those are what my creative spaces are like. How about yours? – Mike Brown
Download the free ebook, "Taking the NO Out of InNOvation" to help you generate fantastic creative ideas! For an organizational innovation boost, contact The Brainzooming Group to help your team be more successful by rapidly expanding strategic options and creating innovative plans to efficiently implement. Email us at info@brainzooming.com or call us at 816-509-5320 to learn how we can deliver these benefits for you.