For as much as we share about the Brainzooming approach to strategy, creativity, and innovation, I still frequently get the question, "What is it The Brainzooming group does?"
I am always surprised when that question comes from someone I interact with frequently or that sees Brainzooming social media content about our work. This confusion about our services can certainly come from how we customize the Brainzooming services to clients' specific situations. Rather than having one method that clients need to conform to when working with us, we modify our approach to what will be most beneficial for the client.
That key difference relative to most (maybe nearly all?) companies that do what we do is one of the most important ways The Brainzooming Group provides tremendous value for the right organizations and C-level executives.
"I'm an executive who needs a new strategy. Can you help?"
If you aren't sure what we do and whether we should be working together, here are several pain points we've addressed for clients in the last year:
My organization needs a new or updated strategic plan, but not painful like the last time.
We can bring you a quicker, more effective strategic planning process than you've likely ever experienced.
I'm a C-level executive and need to move a big initiative ahead, but my staff members lack the wherewithal to make it happen (plus I don't have time to mentor them through it).
We can both teach and mentor them while delivering a strategy and implementation plan to bring the initiative to fruition.
I am taking over the organization and want to engage employees more directly in culture change and moving forward.
We can bring you a multi-dimensional approach to involve all of your employees in sharing their perspectives and aspirations in a way that you can do something with the ideas AND meaningfully engage your people.
My organization is making a push to embrace innovation; we need training, strategies, and a way to make sure innovation is creating the expected impact.
We can design and implement an overall and initiative-specific process to foster and cultivate innovation across your organization.
My sales force is stuck in old ways of selling, and I have to change how we do things.
We can deliver strategic and creative thinking-based training that gives salespeople a structure to approach business development and solutions selling dramatically differently.
Do you see your organization in any of these situations?

If so, we should talk sooner than later. No expectations, no obligation, no endless phone calls asking for follow up.
Talking for thirty minutes, we'll both have a good idea if we should work together. When both our brains are zooming, that's a great sign we've clicked.
If not, no problem. We'll probably both be better off taking a different approach.
Do you have thirty minutes to talk?
So is it worth thirty minutes of your time to see how we can help move your strategies and success ahead?
If so, contact us, and let's make it happen! – Mike Brown
Need Fresh Insights to Drive Your Strategy?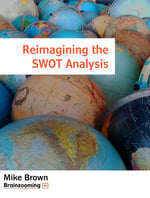 "Strategic Thinking Exercises: Reimagining the SWOT Analysis" features eleven ideas for adapting, stretching, and reinvigorating how you see your brand's strengths, weaknesses, opportunities, and threats.
Whether you are just starting your strategy or think you are well down the path, you can use this eBook to:
Engage your team
Stimulate fresh thinking
Make sure your strategy is addressing typically overlooked opportunities and threats
Written simply and directly with a focus on enlivening one of the most familiar strategic thinking exercises, "Reimagining the SWOT Analysis" will be a go-to resource for stronger strategic insights!