There's finally a name for the phenomenon that many of us have been aware of for several years: hybrid jobs.
Marketers, and especially marketing communicators, have become familiar with seeing job postings that seem to expect every skill. It used to be that a writer was a writer, a photographer was a photographer, and a programmer was a programmer. Now, it's common to see creative positions in marketing and advertising that require the ability to code or program web pages. While you don't typically find those skill sets in the same individual, the combination has become a basic expectation.
Cue the study from Boston-based Burning Glass Technologies about how jobs are increasingly demanding broad, very different skill sets.
The firm has dubbed these roles "hybrid jobs." Its conclusion came from combing through millions of posted positions, detailing and analyzing the expected skills. These types of positions, which are projected to show double the growth through 2028, yield higher salaries (perhaps 40% more for a marketing manager who knows SQL), and experience less susceptibility to automation-based redundancy (an estimated 3x-plus reduction, in fact).
Is Your Organization Ready for Hybrid Jobs?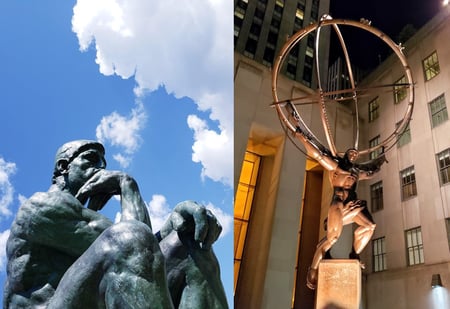 If you're an executive with a team that needs to deepen its opposite skills (e.g., more creative if your people are technical, or more technical if your team is creative), what moves make the most sense? How does that translate if you're an individual trying to stay ahead of the threat of automation and/or irrelevancy?
Increasing Creativity for Technologists
Honestly, we have much more experience to share in helping technical people tap into and develop their creative skills. That's a large focus of Idea Magnets – 7 Strategies for Cultivating & Attracting Creative Business Leaders. It's filled with techniques to help everyone on your team embrace and master creative thinking skills. The objective? To expand personal and organizational success.
The Idea Magnets strategies rely heavily on using targeted questions and frameworks to help executives think from new perspectives. One intriguing thing? Executives don't have to know anything about the methodology behind the questions to make them successful. That's why it's easier (in our experience) for a technical person to adapt to greater creativity. The trick, though, is demonstrating the interest in using creative thinking questions and techniques on an ongoing basis. That's where the Idea Magnets book, tools, and training come into play to seed creative thinking in your organization.
Increasing Technical Skills for Creatives
A Wall Street Journal article by Lauren Weber detailing the growth of hybrid jobs did not offer much in the way of remedies to help retrain workers. Other than a closing paragraph which mentions that hybrid jobs tend to require at least a few years of experience and the need for post-college training, Weber doesn't hint at any potential solutions.
We'll take that to suggest that no one has yet cracked the code. In part, the aging out of the current workforce will eventually place individuals who are digital natives in these roles. In the meantime, here are a couple of ideas to help you explore solutions for your organization and/or yourself.
Take Advantage of Training Resources
Google how to teach adults to code, and you'll discover a wide array of free-to-low-cost training resources. One list featured sixty-four free resources; the author has updated it multiple times over the past several years.
Similarly, you can search for adult STEM training and find additional resources to immerse adults in science, technology, engineering and math (STEM) learning.
The positive news is the wide array of online resources that organizations and individuals can use for training. The challenge, as with so much information on the web, is that independent of established education brands, you'll have to look through reviews and sample the programs to ensure the right level of quality.
Mess Wright, Executive Director at WorkChops Makerspace, lives and works in the heart of the future of work.
"Scroll through a site like Udemy and make a list of classes that are even marginally relevant to your current role - most are low cost or even free," she says. "Don't worry if you start a few and never finish them. Keep trying until you find one that hooks you. It may be that you feel hooked because the new skill is easy for you to learn or even that it's difficult enough to make you want to rise to the challenge."
Try a variety of approaches
For a potential client engagement, we researched ways other companies are trying to accomplish this objective, before pulling workers off the factory floor for training. We identified organizations using a variety of strategies, including:
Educational partnerships
Forming ecosystems among non-competitive companies to develop technology training programs
Introducing gaming elements into workplace tasks
Incentives for independent training on technology skills
Hybrid Jobs ARE in Your NOW
It's important to be creative about finding an approach that works for you and/or your team. Research. Experiment. You'll need to try before you buy, in other words—there's no easy way around that. – Mike Brown