We worked with a client to facilitate an information technology strategy vision. From before the engagement's launch until near the completion, we asked for strategy documents spelling out corporate priorities, objectives, and expectations. We wanted a strategic target to align IT strategy and innovation initiatives to support the organization in realizing its overall vision.
Despite repeated requests, no one ever surfaced this type of strategy document.
We instead used previous exposure, strategic thinking exercises with the IT team and others, and strategic business sense to describe what it seemed a corporate target would encompass.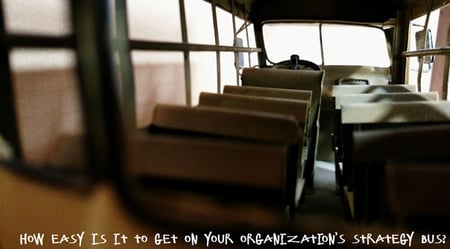 Flash forward to subsequent opportunities to hear top executives discuss the company's direction. These presentations suggest a clear, overarching strategy that perhaps doesn't exist in a formal, written format, but is only passed along verbally outside of the top corporate ranks.
This situation prompted sketching two strategic planning process approaches (narrow or broad collaboration) and alternatives for how an organization communicates its strategy.

A Narrow Strategic Planning Process
When only top management participates in a strategic planning process, relying on verbal communication of the plan can be dubbed "Drip and Wonder(?)." We found ourselves in this situation in the example above. If you are in front of a senior leader (or someone else that has been in front of a senior leader), you get drips of the strategy. If you don't have this access, you "Wonder(?)," as we did, what to emphasize to best contribute to corporate success.
In this situation, when the strategic plan output makes it to a written document, it's a "Read to Learn" situation. You must review a big binder of material to know the direction. If they do throw put multi-media communication behind the strategic plan, it's likely to lead to superficial (because that's all there is time for) wows (although the hoped-for wows may be snoozers).
A Broad Strategic Planning Process
When you engage a broad group in strategic planning, the verbal communication takes the form of "strategic conversations." These do heavy duty in both developing the strategy and creating shared knowledge of the strategic direction. The broad participation helps fuel more frequent and robust conversations about the organization's strategic direction. It's not about access to the right senior executive; it's about strategic conversations among people throughout the organization helping shape the direction.
The written plan doesn't carry nearly as much burden to convey every detail. The written format can concentrate on providing guidelines to operationalize implementation activities. Finally, adding multimedia communication focuses on providing the vision's highlights.
Putting This to Use
This is a new visualization of something we experience that paves the way for another benefit of strategic collaboration. It needs some more work, but it sets the stage why the type of strategic planning approach an organization takes shapes communication opportunities. – Mike Brown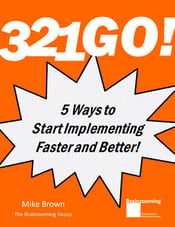 In the new Brainzooming strategy eBook 321 GO!, we share common situations standing in the way of successfully implementing your most important strategies. You will learn effective, proven ways to move your implementation plan forward with greater agility and success. You'll learn ways to help your team:
Move forward even amid uncertainty
Take on leadership and responsibility for decisions
Efficiently move from information gathering to action
Focusing on important activities leading to results