Talking to executives, you hear the expectation that an organization should implement a solid strategic plan strategy-by-strategy. To the extent a strategic plan is not implemented in that way, it falls short in some fashion. This goes along with the idea that if you never remove the big strategic planning notebook from your office shelf, it is a complete failure: you might as well not even do a strategic plan.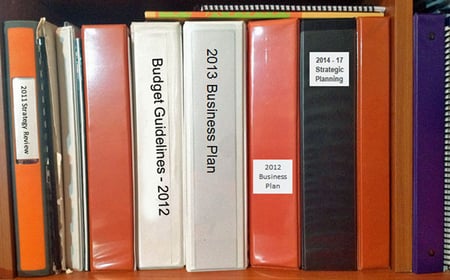 I understand that perspective on how a strategic planning process should play out.
I'm also enough of a realist and have been around the block enough times to not cling to those expectations about how a strategic planning process has to work. If your organization 's strategic plan process comes together based on a few senior executives sitting in a room followed by a bunch of managers working alone in their offices, however, pulling the strategic plan notebook off the shelf is a HUGE metric for whether it's successful.
7 Collaborative Strategic Planning Process Impacts (Even if the Plan Sits on the Shelf)
When you develop a plan from a collaborative, conversationally-driven strategy planning process, you see other tangible impacts. This type of strategic planning process:
Guides the organization to greater success
More effectively creates alignment in strategic thinking
Helps make yes and no decisions about what initiatives to pursue easier
Broadens the understanding of what's important to the organization
Sequences activities you need to implement in a specific order
Sets out metrics that signal progress (or lack of progress)
Educates the organization on how to imagine and implement strategically
Looking at this list, you can see why we place such an emphasis on using a collaborative strategic planning process.
Are you up for discussing how this could benefit your organization? Contact us, and let's book time to talk. If you do, here's our Brainzooming guarantee: Spending thirty minutes together, you'll walk away with at least five ideas you can go do on your own, whether we ever talk again or not.
Want to take me up on that guarantee? Let's go! – Mike Brown
Leaders need high-impact ways to develop employees that can provide input into strategy and then turn it into results. This Brainzooming mini-book, "Results - Creating Strategic Impact" unveils ten proven lessons leaders can use to boost collaboration, meaningful strategic conversations, and results.
Download this free, action-focused mini-book to:
Learn smart ways to separate strategic opportunities from the daily noise of business
Increase focus for your team with productive strategy questions everyone can use
Actively engage stakeholders in strategy AND implementation success