Surveys show that pre-pandemic, employees were in more than 60 meetings monthly:
They saw half of the meetings as time wasters
91% of people daydreamed
73% of people did other work
49% were overwhelmed by the number of meetings
That was before days filled with Zoom meetings were a consideration.
Even if you're unfamiliar with the statistics, you know too well how unproductive meetings will kill your enthusiasm and crater your productivity.
There's an Antidote to Long, Unproductive Meetings
What if there were a framework you could implement to turn an all-day collaborative meeting into one lasting only 30 minutes? You'd want to know about it, wouldn't you?
There's great news: a framework for making that happen exists!
And we'll be sharing it in a free webinar on Tuesday, April 27, 2021 from 5:30 PM to 7:00 PM EDT. ( I know, 90 minutes to show how to meet in only 30 minutes is ironic.)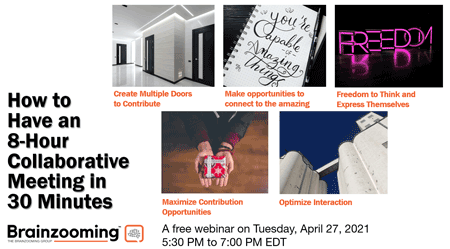 In the webinar, which we will host inside the Blast! platform that we use for online collaborations, we'll cover five dynamics you can manage to increase the productivity and impact of collaborative meetings. These include:
Creating multiple doors for participation
Helping people connect to their amazing selves
Providing freedom for people to think and express themselves
Maximizing opportunities for group contributions
Optimizing group interaction
Whether you are planning collaborations that are online, in-person, or hybrid, you'll learn actionable strategies to increase participation, diversity, equity, inclusion, and results.
Join us for this special event hosted with Nova Scribes, a free and open forum for visual practitioners to share their knowledge.
We're looking forward to having you participate and learn with us! – Mike Brown