The Brainzooming Group joined with the Social Media Club of Kansas City in summer 2011 to plan Building the Gigabit City. The initial Building the Gigabit City effort was a large-scale brainstorming session to imagine what Kansas City could be like with ultra-high-speed Internet courtesy of the introduction of Google Fiber on both the Kansas and Missouri sides of the state line.
The initial Google Fiber brainstorming session continues to lead to a variety of other outputs, including the free 120-page "Building the Gigabit City" report recapping the concepts and ideas generated at the session. The session also produced a recap video with a variety of brainstorming session participants sharing their hopes for a new Kansas City.
What's Next? The Gigabit City Summit: A Global Dialog on Smart and Connected Cities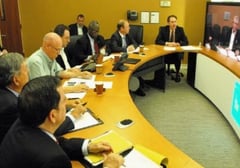 Most recently The Brainzooming Group has partnered with Curiolab and Sandel & Associates to create and produce the Gigabit City Summit, A Global Dialog on Smart and Connected Cities. This series of global discussions held through Cisco Telepresence, is allowing experts worldwide to meet, share their expertise, and convey best practices from the implementation of next-generation city efforts. Participants throughout the Gigabit City Summit sessions will include:
City leaders at the forefront of next-generation communities
Industry and community experts who manage smart/intelligent community initiatives
Vertical experts in industries highly subject to disruption by a faster, more seamless Internet, including media, healthcare, education, government, entrepreneurship, and venture capital
We held the first Gigabit City Summit session on June 27 to set the stage for the entire series of events. Presenters included Mayor Joe Reardon from Kansas City, KS (Wyandotte County), Mayor Sly James of Kansas City, MO, and author Tim Campbell who provided an overview from his book Beyond Smart Cities - How Cities Network, Learn and Innovate (affiliate link). You can listen to the entire inaugural Gigabit City Summit session online to get a sense of the topics we'll be covering monthly.
Participate in the Gigabit City Summit
As a Brainzooming reader, I want to personally invite you to listen and participate live via WebEx, courtesy of the Smart + Connected Communities Institute, to the next session on Leadership, Organization and Community Challenges. The session will take place live on Wednesday, July 25th, 7:00-9:00 am CDT and will be available for replay afterward.
The second Gigabit City Summit will features representatives from innovation hubs around the world, including Amsterdam, Barcelona, Hyderabad, Singapore and Toronto. In addition the co-chairs of the Mayors' Bistate Innovations Team, Mike Burke and Ray Daniels, along with David Warm, Executive Director of Kansas City's regional planning organization will talk about preparation for the arrival of Google Fiber, which is scheduled to make a major announcement about the Kansas City Google Fiber product launch on July 26th.
Sponsor the Gigabit City Summit
Beyond listening to the sessions, there are sponsorship opportunities for organizations who would like to engage in these global, next-generation cities conversations.
Gigabit City Summit sponsors can take advantage of exclusive networking, content marketing, and thought leadership opportunities, in addition to a variety of other sponsorship assets. The sponsorship document below highlights the Gigabit City Summit and the related sponsorship opportunities for the series of events.
Contact me at info@brainzooming.com if you'd like to discuss how your organization can become directly involved as a Gigabit City Summit sponsor.
Let's keep the conversation going! - Mike Brown

How can ultra high-speed internet speeds drive innovation? "Building the Gigabit City: Brainzooming a Google Fiber Roadmap," a free 120-page report, shares 60 business opportunities for driving innovation and hundreds of ideas for education, healthcare, jobs, community activities, and more. Download this exclusive Google Fiber report sponsored by Social Media Club of Kansas City and The Brainzooming Group addressing how ultra high-speed internet can spur economic development, growth, and improved lifestyles globally.