The Kauffman Foundation is hosting a series of speakers in Kansas City to provide ideas, inspiration, and innovation lessons for how Kansas City can best take advantage of innovation opportunities with the The Google Fiber project. The latest Google Fiber project innovation talk was from Nick Donofrio, former executive vice president for innovation and technology at IBM. You can watch the presentation here.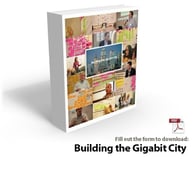 My top 7 innovation lesson takeaways from the Nick Donofrio speech include:
1. Innovation isn't about starting with the solution. Make sure you start with understanding the problem.
Donofrio stresses that starting with the solution often occurs because that is where our experience, specialization, and biases are. He stressed over and over that Kansas City can't view Google Fiber as a solution, but rather as a tool or an enabler for solving significant problems.
2. Understand this century's recipe for innovation.
The recipe for innovation in the 21st century is an environment that is collaborative, open, multi-disciplinary, and global.
3. It is just as important (and sometimes more) to innovate in process and in business model as it is to innovate in product or service.
Donofrio detailed examples from Sweden and India. In Sweden, the deputy mayor of Stockholm changed the process for dealing with a large project, from bidding it out one piece at a time, to bidding it as a whole. In India, Bharti Airtel moved away from a business model in telecommunications that called for owning everything to one that just owns the client interface. Vendors and suppliers own/run the network, the back office, etc. Oh, and the phones are really free.
4. Count on it being an instrumented, interconnected world, so innovation must work in those areas.
There are now 250 billion devices connected to the Internet. The trend is on its way to one trillion devices connected to the Internet.
5. In education beware of the "flop on top" when it comes to technology.
Too often in the U.S., we impose technology on education (our solution) without an understanding of what problem we are trying to solve.
6. There is a huge opportunity for innovation using big data sets.
The cost of calculation has decreased by a magnitude of 16 in the last 100 years (10 to the 16 power). In the next 20 years, the cost of calculation is expected to decrease another magnitude of 8. This dramatic reduction in the cost of calculation allows modeling and simulation of almost anything.
7. You never know who has the last piece of the puzzle when solving significant problems.
The innovation lesson is that it is vital innovation efforts be inclusive. For societies, this creates both an opportunity and a responsibility for those at that top of the socio-economic pyramid to make sure that those at the base of the socio-economic pyramid are included and have genuine opportunity. – Barrett Sydnor

How can ultra high-speed Internet speeds drive economic development? "Building the Gigabit City: Brainzooming the Google Fiber Roadmap," a free 120-page report, shares 60 business opportunities for and hundreds of ideas for education, healthcare, jobs, community activities, and more. Download this exclusive report on the Google Fiber project by The Brainzooming Group addressing how ultra high-speed Internet can spur economic development, growth, and improved lifestyles globally.