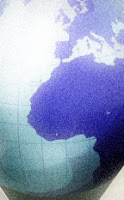 Keith Prather is Managing Director of Armada Corporate Intelligence, a corporate business intelligence firm that functions as outsourced members of corporate strategy groups and consults with companies of all sizes on strategy and implementation. Armada is sponsoring this week of posts on getting ready for 2010 planning.

I've known Keith for nearly a decade and have worked with him closely on a variety of strategic and market planning efforts. Today, I'm excited he's sharing his professional perspectives on getting a better understanding of your external environment during this period of dramatic global change in business and consumer markets:

A critical component of a successful strategic plan is a well-established strategy foundation a compilation of information and intelligence covering your industry, global markets, customers, and the environment. Particularly relevant this year is the need to produce an accurate economic forecast with meaning and relevance for the business. And given the uncertainty surrounding the global economy, this can be a daunting task.
Following the most basic tenets, forecasters need to identify the supply and demand drivers for an industry, and capture meaningful data describing the condition and outlook for them. Sometimes though the most impactful elements on a business are not what we think. Going to the expense side of the income statement and understanding the biggest cost items in your business will help determine the real key elements of supply those you rely on.
For instance, one client believed steel (which was one of the company's top expenses) was the primary input for its business, with countless hours spent monitoring, forecasting, and negotiating steel prices. Energy costs, on the other hand, were not considered to have a material impact, and were lumped into utility and overhead costs. In 2008, however, consumption of oil-based resources drove prices up significantly. As a result, oil costs had to be factored much more directly into forecasting models to improve their accuracy. By not anticipating this significant change to the company's business mix, however, it was caught flat footed.
On the demand side, the challenge is more complex. While providing future economic insights for clients, several fundamental items seem to be driving things developments. First, everything ultimately circles back to consumers. You and I, spending money, drives more than 70% of the nations $13 trillion in GDP. Watching consumer spending, consumer confidence, housing, and several other metrics tracking consumer activity are useful in helping gauge future activity. One great aggregator site for basic economic information is the US Census Bureaus Economic Indicator page.
There are some other great free aggregator sites providing solid current economic news and explanations of some of the items driving current activity. One of my favorites is the RTTNews Daily Market Analysis. We also pay a lot of attention to the Financial Times, CNBC, Wall Street Journal, and Global Insight for forecasting information.
For manufacturing, the Institute for Supply Management publishes one of the most accurate gauges of manufacturing activity, the Purchasing Managers' Index (PMI), on a monthly basis. You can read about the PMI in simple, easy to follow prose at the ISM website.
Calculating risk is also an important component to a well-done strategy foundation. With a wave of new legislation floating around in Congress, it is important for companies to use scenario planning in considering impacts of various regulatory actions on the company. From health care to energy legislation, companies will be hit with direct and indirect risks as a result. Using a system such as the Lockwood Analytical Method for Prediction (LAMP) can help in gauging which scenarios provide the greatest risk and the greatest likelihood of occurring.
It cant be said enough, a solid strategy foundation is the underpinning to a successful strategic plan. Woodrow Wilson once said: "We should not only use all the brains we have, but all the brains we can borrow." If you cant build the strategy foundation in-house, its worth getting help to make sure that the business landscape is being accurately portrayed. Otherwise, you might be building a ship when what you really need is a bicycle. - Keith Prather