"Inside the Executive Suite" from Armada Corporate Intelligence featured an article this week with strategic planning questions based on Amazon. Inspired by an article in The Wall Street Journal by professor Scott Galloway, they lay out five strategic imperatives Amazon uses to disrupt markets and grow. For each strategic imperative, they suggest strategic planning questions to adopt an Amazon-like perspective in devising a company's strategy:
Bringing Amazon-Based Strategic Planning Questions into Your Planning (via Inside the Executive Suite)
Saturday's Wall Street Journal featured an article by Scott Galloway, marketing professor at the NYU Stern School of Business, and author of The Four: The Hidden DNA of Amazon, Apple, Facebook, and Google. Galloway shares market dynamics, the DNA behind Amazon's success strategy, and his view that Amazon (of the four companies) is positioned for a scenario where it "takes over the world."
We participated in conferences and client discussions recently where Amazon and its aspirations were an overwhelming focus. Wherever players in retail, consumer goods, transportation and logistics, and technology (among other industries) are grappling with uncertainty, Amazon is part of the conversation.
The Amazon Strategy DNA
Working from Galloway's analysis, let's look at how to incorporate a strain of the Amazon strategic success DNA into your own strategy development. For several imperatives Amazon pursues, we extract questions you can use to frame explorations at your own organization.
#1 - Strategic Imperative: Pursue the market's "most enduring wants"
Amazon Approach: According to Galloway, Amazon CEO Jeff Bezos remains strongly focused on putting money into addressing the "most enduring consumer wants - price, convenience, and selection."
For Your Organization:
Amid uncertainty, there's tremendous benefit in focusing investment and market penetration initiatives on the enduring wants among your customers and prospects. Does your organization know the enduring wants in your market for the foreseeable future? How are they strongly shaping and prioritizing your business strategy decisions?
Ideally, your organization can go beyond speculation in answering the first question, using a history of quantitative data on what drives customer decisions. Our experience has demonstrated that having a statistically-projectable view of customer behaviors is strategically beneficial. If that is unavailable to your team, explore the most permanent and behavior-driving structural market dynamics. Regulations, resource limitations, and other factors can all play a part in making some decision customer factors more lasting into the future.
#2 - Strategic Imperative: Target narrow, disproportionately profitable niches to dominate
Amazon Approach: While Google leads in overall search market share, Amazon is the major player in product search. Searching for products is the more lucrative market, putting Amazon in a prime position to dominate a profitable segment Google's core market.
For Your Organization:
Talking with executives about focusing on specific markets or niches frequently reveals a sense that targeting implies giving something up, rather than gaining. Surrendering bigger market size for greater profitability, however, is typically a winning move if you understand:
The profit mix within your business by product, service, and segment
The extent to which profitability is linked within areas of your business (vs. having generally discrete cost bases and pricing strategies in separate business lines)
The way the profitability mix in your organization parallels (or doesn't) profitability in the broader market
Answering these questions is integral to identifying profitable opportunities and trying to over-penetrate lucrative market segments your brand can own definitively.
#3 - Strategic Imperative: Leapfrog on what's next or what's after what's next
Amazon Approach: The 700 million Apple iPhone users give it the number one position in the voice-controlled market through the Siri app. The next largest (and emerging segment) is voice-driven home computing. There, through Echo, Amazon leads with a 70% share.
For Your Organization:
It is typically easier to successfully anticipate incremental innovation than innovation targeted two leapfrogs ahead. Forsaking near-term innovation for leapfrogs will entail significant failures. One conference presenter this summer shared the sizable list of Amazon innovation failures. While the brand has developed formidable successes, it's investing in and walking away from leapfrog innovations that aren't panning out as hoped.
Questions to ask in your planning include:
Where do we target innovation strategy exploration: making incremental improvements to what you do today, to what will be next in the marketplace, or toward the market(s) after that?
How much effort do we put into anticipating market developments five and 10 years from now?
Who are our leapfrog innovators?
What innovations are we exploring that can be potential leapfrogs?
Push to integrate a leapfrog element into your strategy, if it needs more innovation.
#4 - Strategic Imperative: Take your critical capabilities to market
Amazon Approach: Amazon Web Services (AWS) is the number-one player in the computer industry's fastest-growing segment: cloud computing and storage. The genesis of AWS sprang from Amazon's internal computing capabilities as it powered its multi-faceted online offerings.
For Your Organization:
As you focus on selling what you offer, there may be supporting capabilities within your organization that could deliver value and growth if companies outside your own could purchase them. If your leadership team hasn't explored this possibility, it makes sense to do so periodically:
What core competencies allow us to deliver the best product or service we can?
Among these competencies, which ones are important to your competitors?
Which of our top competencies are sought after by companies beyond our competitive set?
If you can identify market-caliber capabilities, they can provide strong spin-off business opportunities.
#5 - Strategic Imperative: Sell-in and stick with your differentiation story
Amazon Approach: Jeff Bezos has made the case to the financial markets that vision and growth are as valuable as, if not more valuable than, near-term profitability. The financial flexibility this provides allows Amazon to play a more disruptive role.
For Your Organization: Executives love to guffaw at messaging as so much business fluff, but Bezos' big vision and messaging are integral aspects of the company's success.
Does your organization have a big, consistent differentiation message that ties directly into your business strategy? If not, it deserves time on your strategic planning agenda for 2018.
Picking What Makes Sense for Your Organization
You won't hear us advocating a strategy just because another organization is pursuing it, and that's not what we're doing here. What we do suggest is identifying one or two areas to explore for your organization's strategy: either what it is today, or what it should be fur the future. In those cases, go to school on Amazon and explore what a comparable approach means for your organization's future. - via Inside the Executive Suite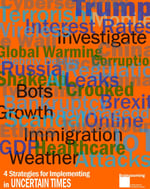 Things aren't getting saner and more calm. Are you ready to pursue an implementation strategy that works in uncharted waters?
The Brainzooming eBook 4 Strategies for Implementing in Uncertain Times will help you examine your strategy foundation, insights, profitability drivers, and decision making processes when few things ahead are clear. We share suggestions on:
Using your organization's core purpose to shape decisions when things are changing
Reaching out to employees with valuable insights into what to watch out for and what to expect
Sharpening your command of cost and profit levers in your organization
Implementing processes to focus and sharpen decision making