With Father's Day on Sunday, it seemed appropriate to share some more personal versus business or organizational advice. A number of years ago, I noticed that Greg Reid, my boss and strategic mentor, talked with his father by phone a lot. As Greg told me, someday your parents aren't going be there, and you'll regret not having taken the opportunity to talk to them daily when you could.
His statement had a big impact on me.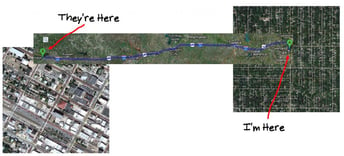 I made a concerted attempt to switch from once weekly Sunday phone calls to my parents (who live hundreds of miles away) to trying to talk with them via phone daily.
It was a big change, but when my dad was in the hospital for ten weeks a few years ago, and it wasn't clear whether he'd make it or not, I was so glad that Greg's comment had prompted me to earlier change what I was doing. If something HAD happened to my dad, there weren't going to be any regrets about things I'd wished I'd said but never had.
Ultimately, my dad was finally released from the hospital right before Father's Day in 2009 thanks to lots of prayers, incredible support from my mom, and strong medical care that helped him navigate through a variety of conflicting medical conditions.
Now, I usually try to catch up with my parents most weekdays in the late afternoon, usually while they're going for a ride in the car (and I'm driving home). I'm not perfect at it, especially when my schedule gets messed up (which seems to have happened a lot the last two weeks), but I don't miss a call lightly.
So I pass on Greg's parental advice (who happens to have a big birthday on Father's Day) to all of you who can take advantage of it: make the decision to call your parents (and/or close loved ones) daily when you can so there won't be any regrets or things left unsaid when you can't do it anymore. - Mike Brown
Download the free ebook, "Taking the NO Out of InNOvation" to help you generate fantastic new ideas! For an organizational creativity boost, contact The Brainzooming Group to help your team be more successful by rapidly expanding strategic options and creating innovative plans to efficiently implement. Email us at info@brainzooming.com or call us at 816-509-5320 to learn how we can deliver these innovation benefits for you.