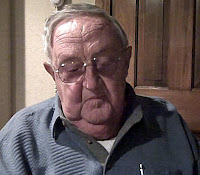 This post ran for Father's Day on my "Aligning Your Life's Work" blog. It triggered a number of people reaching out to share stories about their fathers, so I decided to run it here on Brainzooming also:
Many of you know my dad entered the hospital in early April. Three surgeries, four ICU stays, a life flight to Kansas City (followed by an ambulance ride back to Hays), and several weeks in rehab later, he was released Friday after 70 days.
Through the incredible prayers of many people, the indefatigable support of my mom, and his indomitable positive spirit, he's alive today, with something still to prove.
There were many ups and downs during his hospitalization. One 24 hour period stands out.
On Mother's Day, I headed to Hays when he returned to ICU with a blood clot in his lung. The ICU doctor pulled me aside and asked if I understood how serious Dad's condition was. I assured him I did. And even though it was ostensibly her day, I don't think I wished my mom Happy Mother's Day until 9 o'clock Sunday night.
Back at home, I laid in bed, making myself cry for the emotional release needed in the days ahead. I thought about what I'd learned from my dad and all the things he'd been and done in his life. And I got the idea for the piece below.
As I've told a number of people, I feared the worst when I went back to the hospital the next morning at 8 a.m., and Dad was unconscious and on a ventilator. At the 10 a.m. visit, he was alert and nearly squeezed my hand off; suddenly my tears from the night before turned to tears of joy. By the 8 p.m. visit, he was off the ventilator and watching "Dancing with the Stars."
That's my dad, and I'm so glad he's out of the hospital for Father's Day to be able to read this post.
I love you Mom and Dad!
My Dad
My dad is my dad.
He's a son, a husband, and a big brother to many - whether or not he's older or even a sibling.
He's a Kansan.
He's a friend.
He's a partner with Jesus.
He is loved by so many people.
My dad is a barber. He's a salesman, broadcaster, TV celebrity, and announcer. He's a chef and restaurateur. He's a board member and advisor.
My dad is an electrician, plumber, mechanic, gardener, carpenter, house painter, collector, comedian, impressionist, and artist.
I've seen him fix all kinds of things for people.
For those in genuine need, he's a bank, a financier, and investor.
Hard working and strategic; a solver and critic.
He has a distinctive personality. He's a learner and advice giver.
My dad is tech savvy, following me into blogging and tweeting.
He's incredibly proud of his son.
My dad's a positive thinker and struggling. He's sweet and rebellious.
A coach and cheerleader, with a cantankerous, opposing voice.
He loves sports; hates athletic ineptitude. That's why he's a frustrated golfer and Kansas City sports fan.
He's demanding and a loving, supportive man; big hearted and skeptical.
He's a confidant who is inquisitive (at times nosy), and doesn't take any bullshit from anyone.
He is infirmed, and he looms large.
My dad is a rock, a fighter, and seemingly to me, invincible.
My dad is my dad.