Wow, that unplanned blog vacation went on longer than expected.
It has felt all throughout 2018 as if everything else going on in the Brainzooming world has been pulling attention away from the blog (and many other things in my work and personal lives). One of the significant pulls has been a two-year project to launch two new companion brands to Brainzooming.
The first companion brand involves developing and releasing a book on creative leadership. The book is completed, and after a few revisions, we'll be ready to launch by early July. We did a soft-launch of the book last week at a customer event. Our preparation for that event, plus getting the book to an interim finishing point, drew more creative energy than I'd expected or suspected as we toiled away on it. The upside of the time away from everything else is that we created multiple book-related assets we have ready to go.

The second companion brand encompasses, in its initial version, an online offering targeted at emerging brands. It will provide an amazing range of brand strategy, customer experience, and content marketing assets to prepare owners and entrepreneurs within these brands to aggressively increase awareness, grow into new markets, and/or raise new money to take the brands to the next level. It's nearly complete and will formally launch on the heels of the new book.
In addition, there is also a new innovation strategy diagnostic that needs tweaking before its broad launch, work on multiple new websites, client follow-ups, invoicing, changed travel plans, multiple road trips, and a few work crises sprinkled throughout the last few weeks away.
Put it all together, and, at least for the last few weeks, blogging has slipped down the list of what is getting attention.
Growing, morphing, and scrambling pains are WAY beyond what you might typically expect.
Our unplanned blog vacation will look less like a vacation and more like a sporadic blogging schedule for a bit, unfortunately.
That's not what we want to do. But right now, it's reality. – Mike Brown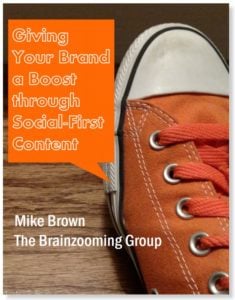 Download the Brainzooming eBook on social-first content strategy. In Giving Your Brand a Boost through Social-First Content, we share actionable, audience-oriented frameworks and exercises to:
Understand more comprehensively what interests your audience
Find engaging topics your brand can credibly address via social-first content
Zero in on the right spots along the social sales continuum to weave your brand messages and offers into your content
Start using Giving Your Brand a Boost through Social-First Content to boost your content marketing strategy success today!