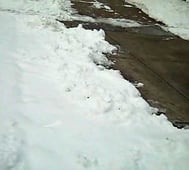 Trends are pushing brands into innovative channels to sell their products and services. These strategies include going through intermediaries who resell, repackage, aggregate, or creates marketplaces for multiple providers' offerings. These arrangements have been the rise and ruin of many brands.
A specific challenge for parties in these intermediary relationships is that each brand visible to the end customer is bringing its individual brand promise to the sale. In turn, each becomes responsible for the aggregate brand promise, making it critical for various individual promises to fit together in a sensible way for customers. It's also vital that each provider (and its employees) can and do carry out the aggregate promise of whatever's being offered.
Our experience last week highlighted the challenges involved. Trying to get our driveway cleared of 9 inches of snow before returning from a trip, we used ServiceMagic.com. It promises to identify a short list of screened and approved professionals for home repair and contracting work, backed with a seal of approval and a guarantee.
We chose the first one to contact us (whose name can best be described as "Generic Subdivision Name Lawn and Garden" company).
Here's the rub. Beyond whatever else ServiceMagic promises, its name implies something more. It's not operating under a generic lawn and garden company name. Adding the name "Magic" into the collective brand promise implies an enhanced sense of delight and wonder with the service performed.
Unfortunately, we returned home to find the snow removal only partially completed. The porch, walk, and driveway were still half covered in snow - hardly a magic moment. A call to the snow removal company didn't get someone back to do the work by the next morning. I wound up finishing the project, shooting a video before and after to substantiate what was and wasn't done.
As of this posting, no one's contacted us and we haven't been invoiced by anyone. Maybe that's the "magic" part of the service. If this is the case though, it would be a more magic strategy if someone called to say, "Hey, we screwed up, and it's free!" Doing so would ensure our return for more performances! - Mike Brown