We don''t necessarily have a lot of traditions around here.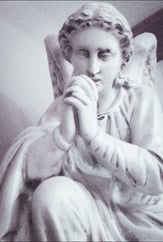 But if there is one, it's sharing our creativity prayer annually on Ash Wednesday as the the Lenten season starts. During Lent, Christians are called to increase their time devoted to prayer, reflection, and sacrifice as a way to detach from the demanding distractions of daily life.
Perhaps more so than in recent years, I'm struggling with my own calls to prayer, fasting, and alms giving for this Lenten season. I've been praying about it for a couple of weeks and still haven't "heard" exactly what I'm being called to do.
Maybe that's the lesson - some Lents begin with very clear definition; others are true journeys to find where God is trying to lead you. Perhaps this is because of changes I've undergone personally in the last year. Some have given me more confidence and peace, while others have left me tremendously unsettled.
In any event, my hope remains, as always, that sharing this creativity prayer will provide creative inspiration for you and prompt you to seek new inspiration for your creative efforts in the coming weeks and year!
A Creativity Prayer
Lord,
Thank you for creation itself and the incredible gifts and talents you so generously entrust to me. May I appreciate and develop these talents, always recognizing that they come from you and remain yours.
Guide me in using them for the benefit of everyone that I touch, so that they may be more aware of your creative presence and develop the creativity entrusted to them for the good of others.
Help me also to use your talents to bring a creative spark and new possibilities to your world, living out my call to be an integral part of your creative force. Amen.
Copyright 2008, Mike Brown