You know the old phrase for weddings that goes, "Something old, something, new, something borrowed, and something blue"?
You can turn the expression into handy creative thinking questions, with a twist, of course.
Creative Thinking Questions - Something Old, New, Borrowed, and Rhyming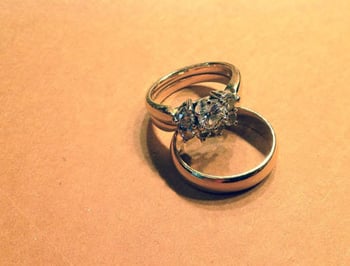 When you are looking for new creative thinking and ideas, look at your situation and ask:
What's something old about this that is now overlooked but can be refreshed?
What's something completely new we could do or create?
What idea can we borrow from a similar (or perhaps dissimilar) situation that applies?
What would make customers (or whoever the audience is) blue if unless it's improved?
Those work well, but of all the creative thinking questions, the one for "blue" is a little clunky, don't you think?
Here is the creative twist – use another word that rhymes with "blue" to complete your fourth creative thinking question.
Try one of these instead to have Something ________:
Boo: What's the scariest thing we could do to change this situation?
Do: What would prompt our audience to act with greater intensity?
Due: What change would we make it we had to implement it right away?
Few: How could we make this more rare and valuable?
Glue: An idea that would stick with people better?
Pooh: What would be the coolest shit we could make?
Stew: What if mixed everything together?
Zoo: What animal characteristics could we creatively apply?
Take one or more of these creative thinking questions for a walk down the aisle and see what new ideas you imagine, for better or worse! – Mike Brown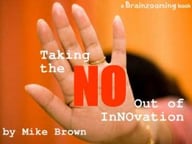 Download the free ebook, "Taking the NO Out of InNOvation" to help you generate fantastic creative thinking and ideas! For an organizational innovation success boost, contact The Brainzooming Group to help your team be more successful by rapidly expanding strategic options and creating innovative plans to efficiently implement. Email us at info@brainzooming.com or call us at 816-509-5320 to learn how we can deliver these benefits for you.