I misread the question in this tweet yesterday – maybe because I was reading it in the car after church. No, I wasn't driving yet.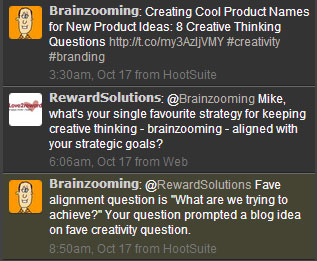 Or should I say I wasn't driving "yet-ish."
Creative Thinking Questions
Anyway, I thought the question was about my favorite creative thinking questions. We've never covered that, so writing about my favorite creative thinking question immediately suggested a blog post.
Here's my favorite creative thinking question: How could we make it ______________?

As my quick jottings show, among all the possible creative thinking questions, this one does a wonderful job of:
Linking strategy and implementation (How)
Getting you looking to the future (could)
Implying collaboration (we)
Being active since it presupposes doing something (make)
All that, plus it can work (perhaps with a little finessing) as a lead-in question to three of my favorite creative thinking exercises:
That's a hard working question!
My Favorite Creative Thinking Question So Far
So although this is an answer for an unasked question, "How could we make it _____________?" is at the top of my list of creative thinking questions – so far. There could always be a new one to displace it, but that will take some doing!
Anybody else have a question I can misread and turn into a blog post?
Send them my way! - Mike Brown
If you enjoyed this article, subscribe to the free Brainzooming email updates.