(This is another in a week-long series on forming oneself as a Catholic business person.)
As a result, the pressure for inspiration and creative thinking was always dependent on me. What did I need to do to trigger creative thinking? What ideas did I need to imagine? What situations did I need to seek out to trigger desperately-needed inspiration?
At some point, God provided the grace to realize my creative inspiration was from outside, not inside. While creative thinking had something to do with me, it wasn't dependent on me at all.
God provides all the needed creative inspiration.
Understanding that changed things for me.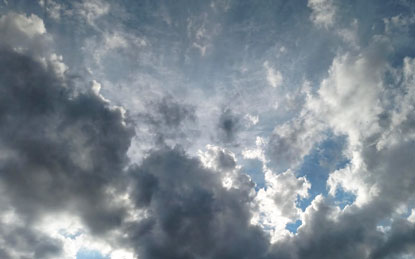 I realized much of my creative inspiration came at church.
Inspiration arrives when I surrender MY answers and ideas...and wait...prayerfully and patiently. It involves being hopeful and ever watchful to see what leads to inspiration. It's being blessed to depend on the graces God generously offers to solve problems and capitalize on opportunities.
Importantly, this isn't something commercial in nature. If it were commercial, it wouldn't be from God. And what I mean by "creative inspiration" in this regard is ideas, words, being in the right place, or being in the wrong place but still having good things happen. It's about help when you need it most even if it's not on my timetable. It's about all the things I don't want to do or would simply never do that now work out in ways I could have never imagined.
Our priest asked during a recent homily at daily mass if we see the same type of miracles today that are documented in the Gospels. My answer is that with God's grace and an openness to surrender, these types of miracles and more do happen today.
Every day.
We just don't chalk them up to God anymore.
And that reflects much worse on us than it ever does on God. - Mike Brown
Download our FREE "Taking the No Out of InNOvation eBook to help you generate extreme creativity and ideas! For organizational innovation success, contact The Brainzooming Group to help your team be more successful by rapidly expanding strategic options and creating innovative growth strategies. Email us at info@brainzooming.com or call us at 816-509-5320 to learn how we can deliver these benefits for you.