Back from last week's Inbound conference, we're going light on copy and heavy on pictures of creativity for the creative inspiration to start out this week.
Your Creative Inspiration Is Out There . . . Wait for It!
Author and PR expert, Alex Greenwood, and I were out at Kaufman Stadium to see a Kansas City Royals baseball game. That's where we spotted the lonely "Y" looking for the M, C, and A to complete his creative vision. It struck me that we're all like that at one time or another. We know what we want to accomplish creatively, but it's going to take some other important people and perspectives to bring it to fruition. You just have to stay creative as you wait for the other pieces to come into place!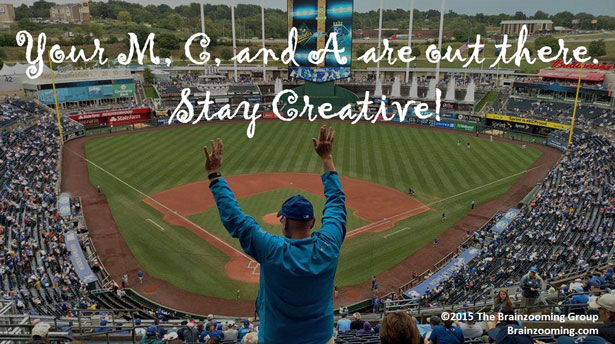 I'm all about the
Orange!
This incredible speaker gift from the Boulder Journey School conference received attention on Twitter, but didn't get a mention here on the Brainzooming blog. When you work with great, wonderful friends such as Ellen Hall and the whole team at the Boulder Journey School, you receive amazing wonderful orange socks as a speaker gift! These fit right in with my wide array of orange footwear and are full of creative inspiration!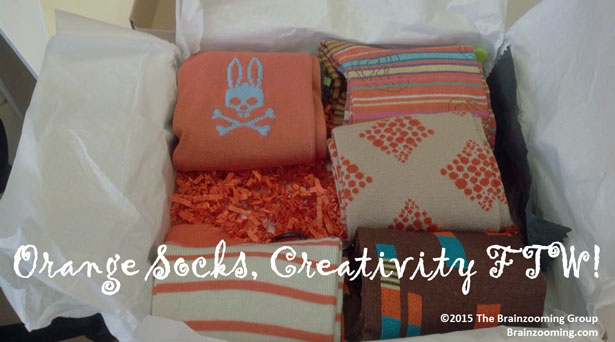 You Can't Sit Down and Just Expect Creative Inspiration to Happen
I think this creative inspiration breakthrough emerged from a workshop where I had people who were low-energy and wanted to sit back instead of actively participating. Sometimes creativity flows over you, but your odds go way up when you get excited and stand up for creativity!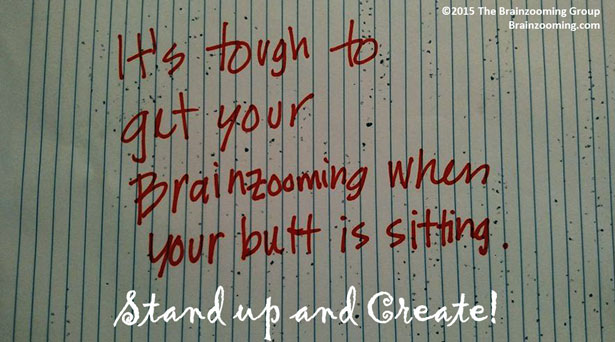 Your Creative Sleep Time
This was on somebody else's room at a Cambria Hotel in Denver. Sleep IS important to creativity. In fact, my dad tells me how important sleep is on an almost daily basis. It seems though that I approach sleep mostly like a small plate restaurant where you never seem to be completely satisfied. It's rare to get a full-course meal of sleep for me.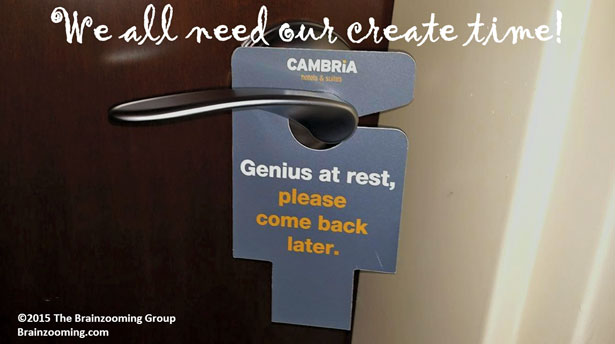 Speaking of Not Sleeping Much
This picture was from the middle of the night when I was up writing something. I don't particularly do selfies, but made an exception in this case, because we ALL have our mad scientist of creativity moments. I had just never realized that mine seemed so much heavier on "mad scientist" than creativity!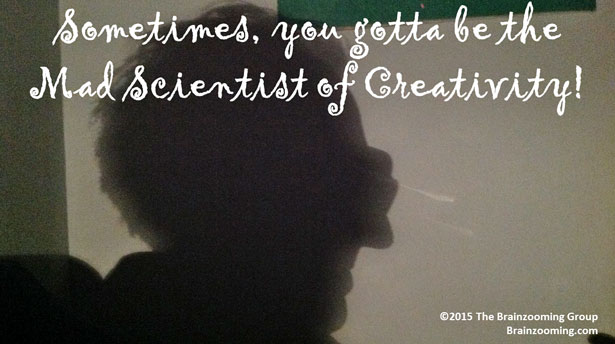 Download our FREE "Taking the No Out of InNOvation eBook to help you generate extreme creativity and ideas! For organizational innovation success, contact The Brainzooming Group to help your team be more successful by rapidly expanding strategic options and creating innovative growth strategies. Email us at info@brainzooming.com or call us at 816-509-5320 to learn how we can deliver these benefits for you.