When it comes to whether an organization demonstrates ample creativity and new ideas, you have to place a load of responsibility on the leadership. How the leaders encourage and cultivate new ideas (or don't) will affect the volume and richness of creativity throughout the organization.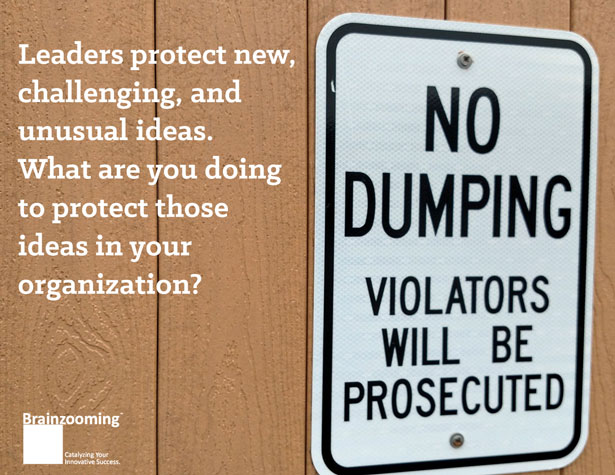 If you want to go deeper into our thinking on the topic, here are a variety of articles on how leaders both support and stand in the way of creativity and new ideas.
Leaders Supporting Creativity and New Ideas
Creative Thinking – 7 Keys to How "Idea Magnets" Boost Creativity
Career Challenges – 8 Ways to Let Talented People Help You
The Process of Strategy Planning: 5 Ways to Keep the Boss from Dominating
New Employee Success – 5 Ways to Create Success for New Ideas
Be a Business Fan for Your Work Team Members
Creative Thinking Skills: 6 Tips for Sharing and Receiving Creative Ideas
Unleash Creative Possibilities with Bob Thacker
Extreme Creativity – When Do You Trust a Creative Genius?
Leaders Getting in the Way of Creativity
5 Ideas When an Uber-Positive Boss Crushes Creative Thinking
Protecting Your Creativity in a Culture that Doesn't Value It
New Business Ideas and a Creative Block in Your Organization
Download our FREE "Taking the No Out of InNOvation eBook to help generate extreme creativity and ideas! For organizational innovation success, contact The Brainzooming Group to help your team be more successful by rapidly expanding strategic options and creating innovative growth strategies. Contact us at info@brainzooming.com or call us at 816-509-5320 to learn how we can deliver these benefits for you.