The forming and use of creative thinking heuristics fascinates me.
That shouldn't be surprising.
As the Brainzooming name suggests, we concentrate on opportunities for short cutting creative thinking in smart ways to keep (or start) things zooming along. If there's a smart creative thinking shortcut to be tried, we're up for it.
Creative Thinking at #BJSSC15
During the presentations from mentor teachers and intern teachers at the Boulder Journey School Conference, it was fascinating to hear the lengths to which they go to honor and fulfill the intricate thinking paths the children devise.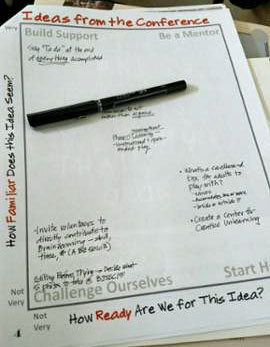 For instance, the children in one class were working on designing homes for animals, thinking about and accounting for all the things a home would need to include to be homey. The work inspired one of the teachers, Lauren Frazier, to pursue the idea of actually getting a pet for the classroom. Through multiple rounds of voting on what type of pet they wanted (and even absentee voting for parents and grandparents) and what the pet would be named, the class arrived at Nibbles, the guinea pig.
Then, beyond translating their ideas about an animal's home into Nibbles' new home, the children wanted to decorate Nibbles' cage in her favorite color. They devised a series of tests where "doors" of various colors were placed with Nibbles. Students tallied Nibbles' activity across several days, and using multiple criteria, and they determined red was Nibbles' favorite color. This paved the way for creating a series of red decorations in her cage.
Before Shortcuts, There Were Many Steps
You may wonder why I'm sharing the Nibbles story.
Beyond the striking separated-at-birth resemblance between Nibbles and our very own Brainzooming Director of Enthusiasm, there's a very important reminder.
Nibbles wants to meet you... Stop by room 12! #bjssc15 pic.twitter.com/8spaCuepKB

— Lauren frazier (@laurensue42) June 25, 2015
Nibbles the Guinea Pig and the Dir. Of Enthusiasm. #SeparatedAtBirth? #BJSSC15 http://t.co/YYeXVdbTdH http://t.co/Wn24qr2wwv — Mike Brown (@Brainzooming) June 25, 2015
It's so easy in business and organizational settings to cut out steps and reduce thinking time to save costs and improve the bottom line. We hear the mantra to "ship" new products sooner and fix it later. It's all part of what we think is making business more revolutionary these days. It's all about taking fewer steps.
At the Boulder Journey School, however, they walk through each decision step. And the children are the ones charting the steps...not the adults who know better and thus might be the first ones to cut out steps. I know I fought the quick conclusion during the Nibbles presentation to think, "Just pick a color for goodness' sake and get on with it!"
The learning is when your audience or stakeholder group is newer to ideas and concepts than an organization's leadership is, there is value to letting them chart the steps and taking all the steps necessary to bring them along in shaping and supporting new ideas. Even if it takes longer, and even if it so deliberate that it can seem maddening, maybe the best answer is going to be the one that emerges from all those steps. – Mike Brown
Looking for Ways to Develop a Successful
Innovation Strategy to Grow Your Business?
Brainzooming Has an Answer!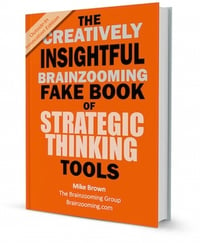 Business growth can depend on introducing new products and services that resonate more strongly with customers and deliver outstanding value.
Are you prepared to take better advantage of your brand's customer and market insights to generate innovative product ideas? The right combination of outside perspectives and productive strategic thinking exercises enables your brand to ideate, prioritize, and propel innovative growth.
Download this free, concise ebook to:
Identify your organization's innovation profile
Rapidly deploy effective strategic thinking exercises to spur innovation
Incorporate market-based perspectives into your innovation strategy in successful ways
[sc:Outside-In ]