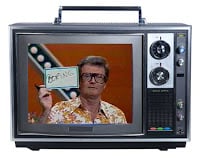 Riding the Waves
One night, based on my wife's question about if and when George C. Scott had died, I followed Wikipedia links to Tony Randall, Jack Klugman, Brett Somers, Charles Nelson Reilly, Gene Rayburn, Bert Convy, Bobby Van, and Elaine Joyce - Bobby Van's widow. (If you're wondering, the clear theme was my rabid viewership of mid 1970s CBS game shows.)
Amazingly, it said Elaine Joyce dated J.D. Salinger for several years before marrying Neil Simon - who knew? I really have abandoned my earlier passion for pop culture trivia!
That revelation led to more clicks and discovering this 1951 Salinger quote on literary influences:
"A writer, when he's asked to discuss his craft, ought to get up and call out in a loud voice just the names of the writers he loves."
2 Creative Quickies
Need a little quirky inspiration? Take a period of your life, pick a starting point, and do some Wikipedia surfing as source for semi-random inputs. You never know what cool places Wikiwaves will take you.
Expand on Salinger's idea and "call out in a loud voice" the creative influences you love. You choose where to do it - maybe it's a blog, Twitter, Facebook, Tumblr, etc. Gosh, maybe it's actually really speaking them aloud. Simply pick the venue and have fun doing it! - Mike Brown