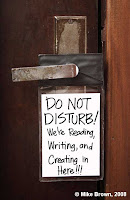 The November 2008 Inc. Magazine has a feature on hotelier Chip Conley. The article mentions in passing an intriguing creative inspiration combination he uses when designing hotels: he selects one magazine and five words that embody the overall hotel concept.
Give that approach a try next time you're stuck for a creative start:
Get a magazine that's brand new to you
Identify five words describing your intended creative destination
Put them all together in one room for the night and hang out the DO NOT DISTURB sign
See what new possibilities emerge the next morning!