Chuck Dymer, the Brilliance Activator, taught me years ago about the difference between chickens and eggs when it comes to creative thinking exercises.
In the world of creative thinking, Chuck shared how you can equate a chicken with a concept and an egg with an idea.
Just as a chicken lays many eggs, exploring a concept with various creative thinking exercises yields many ideas. Based on the breadth and variety of creative thinking exercises you use, the ideas a concept produces may be radically different.
One great benefit of the chicken and egg approach is this: If you have a single idea, you can morph the idea into a concept by asking questions about what things the idea represents. And once you turn the idea into a solid concept, you can use the concept to generate a whole new set of ideas using other creative thinking exercises.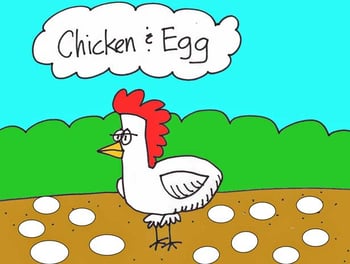 I've been thinking about this while updating our "Doing New with Less" material for the Transportation Marketing and Sales Association boot camp this week. When we deliver one of our Brainzooming creating strategic impact workshops, there are definitely a lot more chickens than eggs.
Instead of telling participants to simply return to their companies and do what some other "best practices" company has done, as so many speakers and workshop facilitators do, we deliver strategic and creative thinking exercises linked to frequent business situations. In this way, we're looking to maximize the value attendees gain through having real tools that will serve them for years.
Most attendees appreciate this strategy of sharing strategic and creative thinking exercises during our workshops.
A few attendees, however, simply want to be told what to do. Those attendees, although few in number, are likely to be disappointed. That's why we always both probe on attendee expectations at a workshop's start and set expectations about how they can use what they'll learn in multiple ways and situations.
If you'd like your team better prepared as strategic thinkers and implementers armed with many tools to enable your organization's success, we should be talking about how we can customize a creating strategic impact workshop for your organization soon.
We'll bring the chickens. – Mike Brown