Our hometown Kansas City Royals are playing in the 110th World Series against the San Francisco Giants. It is beyond surprising the Royals made it back to the World Series after a twenty-nine year absence.
I will spare you the details of the Royals making it to the World Series, because I readily admit not following the Royals closely in decades. My attention this year really only started in September.
Even so, there is a clear lesson for creating strategic impact within the management style of Kansas City Royals manager, Ned Yost.
Kansas City Royals and Tinkering Less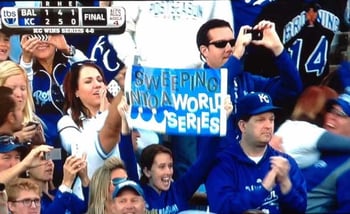 What's been clear, especially during the Royals first eight straight wins in the 2014 post season is Ned Yost's primary game plan is to get to the sixth inning with a lead, no matter how slim it is. If the Royals have the lead by that point, he goes to the bullpen and uses one nearly full-proof reliever each in the seventh, eighth, and ninth innings.
In effect, Yost has the Royals playing a six-inning contest whenever possible so that with a lead in place, he can check out of active management for the final third of a typical game.
Because after the sixth inning, as Yost characterized it following the Royals winning game two of the World Series, "my thinking is done. I don't have to mix and match . . . once we get past the sixth inning, my guesswork is done. We've got a pretty good recipe for success with Herrera, Davis, and Holland (the three relievers)."
Don't let Yost fool you; he also has a couple of other decisions about switching his outfielders around and substituting for a slow base runner.
But all these decisions seem to be nearly as well scripted as the decision to bring in the three relievers.
Creating Strategic Impact Daily
So here's the creating strategic impact question for you.
Are you a tinkerer who has to see your strategic thinking and fingerprints all over your team's success?
Or are you willing to do your strategic thinking upfront, develop a high probability formula for creating strategic impact, and then implement it over and over again, no matter how routine your winning formula seems to be?
There is no right answer when it comes to creating strategic impact, but it is a challenging question for many people, I suspect.
I remember hearing Jay Conrad Levinson say in a speech once that one of the worst things marketers (who tend to be tinkerers) can do is getting bored with what they are doing and feel the need to change things just to stay interested.
Far better, Levinson advised (and Ned Yost seems to prove), to be bored out of your mind, but be in a position to implement the same winning formula over and over.
If your ultimate goal is creating strategic impact, maybe it does make sense to get there with as much routine and as little effort as possible. – Mike Brown