Working on a creating strategic impact exercise the other day, I typed the words "Challenge" and "Change" on a Powerpoint slide.
Suddenly, it struck me that the only difference between challenge and change is the "lle" in the middle of challenge. Take the "lle" out and you get "change." Add the "lle" to change, and you get "challenge."
I think it was late at night (or some other time I was mentally exhausted), so I put messages out on Twitter and Facebook calling out the three-letter difference in challenge and change, commenting, ". . . Not sure what to do with that quite yet."
By the next morning, I had several replies on Facebook and Twitter about what "lle" could represent. The most compelling answer came via Vince Tobias on Twitter, who suggested the acronym could stand for "lots of little excuses."
@Brainzooming LLE = Lots of Little Excuses... that keep us within the familiar and comfy. #bringiton #innovation

— Vince Tobias (@vincent_tobias) October 18, 2014
What a brilliant answer, suggesting the potential for creating strategic impact and change if you can pull out all the "lle" or "lots of little excuses."
While I took a little liberty in turning "lots of little excuses" into "lotsa little excuses," the collaborative quote stands as a great reminder that excuses are all too convenient ways to avoid challenges and to stay stuck in the status quo with what we've always done.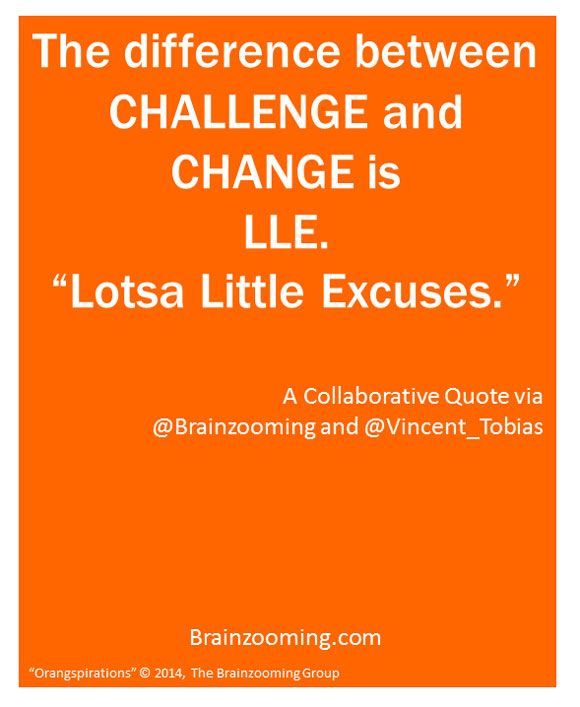 The Brainzooming Group helps make smart organizations more successful by rapidly expanding their strategic options and creating innovative plans they can efficiently implement. Email us at info@brainzooming.com or call us at 816-509-5320 to learn how we can help you enhance your strategy and implementation efforts.