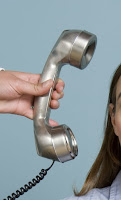 Here's a variation on the 4 p.m. List approach with a slightly dishonest implementation method.
I was leading an all-day group session on a contentious topic. We'd spent much time in divergent thinking mode with interesting discussions exploring many points of view. Still, we hadn't clearly advanced toward a recommendation even though we had to make demonstrable progress by the end of the day.
I broke away during lunch and handed Dawn, the front desk receptionist, my cell phone number, asking her to call it at 1:15 p.m. and not worry about what would be said.
When the phone soon vibrated, I made a point of heading to the back of the room and starting a loud, faux conversation with the project's sponsor expressing my displeasure with him scheduling time with our CEO at 3:30 p.m. to review our recommendation. Given the timing, we'd have to wrap-up by 3:15 p.m. to get him ready. By the end of the call, I had everybody's attention (and had Dawn wondering what was going on).
Playing back the other end of the conversation for the group, our challenge was clear - get to agreement within the next couple of hours so we wouldn't embarrass ourselves by not having our project sponsor ready for the CEO. All of a sudden, it became easier to find points of agreement, determine how we'd solve uncertain areas, and structure what a final report-out included.
As 3:15 approached and the sponsor didn't show up, group members noticed something wrong. I admitted the meeting was a ruse designed solely to get the group moving. While they were frustrated, they quickly realized the satisfaction of finishing the assignment outweighed two hours of pressure.
If you want to borrow this, know that you can only use it once with the same people, so pull it out when you don't have other better options to force closure. While enough time has passed to probably try it again, sharing it here means I won't be able to use it for another year!