I am asked about personal success strategies frequently, as I'm sure most business people are.
My 4-Step Career Advice
When someone expects career advice and ideas on personal success strategies for free (as they so often do), my standard career advice, particularly to mid-career professionals is:
Start communicating your expertise in your Plan B area (and Plan A if it fits), whether that's via a blog, a social media site, video, presentations, audio, etc. The medium doesn't really matter as long as you start communicating what you know sooner than later!
The minute your Plan A job shrinks (or there's even a hint it might shrink), start ramping up plans for Plan B to become your major income source.
Should plan A ever go away - or you decide you want it to go away - you're in control of making the right decision.
That's my standard advice because it's what I did. And since it has worked reasonably well, I share this personal success strategy because I have at least case to suggest it's a reasonable strategy. And I don't want to suggest a bad course of action to anyone.
Nearly Everyone Ignores this Career Advice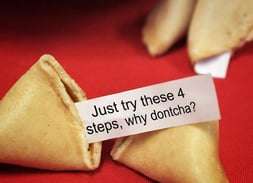 Perhaps because this is my most frequently shared advice (I've been giving some version of it for twenty years), it's the advice nearly everyone ignores.
One friend has been receiving this career advice from me his entire professional work life, and he has yet to act on it. For twenty years he's been doing something he doesn't really love doing, but he won't launch plan B linked to what he is truly passionate about doing. So when his plan A evaporates - and it's been close before – he will either be starting from scratch on his passion OR wind up doing more of what he hasn't REALLY loved doing for twenty years because it's the only thing where he has deep professional experience.
I understand the reluctance to follow this career advice.
Step 1 is a pain in the ass.
That's not how popular personal success strategies work; they are supposed to start incredibly easy.
Step 1, however, is hard work. It means doing double time, or at least one-plus time. Thus, if you aren't up for that, you'll ignore this advice.
I understand the problems with the whole "I have to work even harder now and probably later" part of this personal success strategy.
But it works. That's why I keep giving it out to people who ask - and don't want to pay for more customized advice.
Now, having written this, I have a link to give anyone looking for free career advice. Which is a LOT easier and simpler for me. But for you, if you choose to do it, it still going to be hard. It's so worth it though.
Trust me. It's great advice, and it only gets better with time. - Mike Brown
Download the free ebook, "Taking the NO Out of InNOvation" to help you generate fantastic creative thinking and ideas! For an organizational innovation success boost, contact The Brainzooming Group to help your team be more successful by rapidly expanding strategic options and creating innovative plans to efficiently implement. Email us at info@brainzooming.com or call us at 816-509-5320 to learn how we can deliver these benefits for you.