I love when the numbers behind innovation being a numbers game show themselves in surprising situations. Vicki Dummer, former executive vice president, Times Square Studios, Current Series & Specials for the ABC Entertainment Group, shared corroborating statistics at a Kansas City American Marketing Association Annual Seminar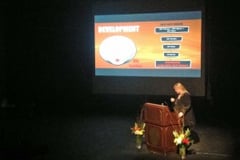 She provided an intriguing look into where television program ideas develop, how television program decisions are made, and ways the network markets a television program it has green lighted for a new television season.
While the overview Vicki Dummer shared on the integrated marketing plan for the new ABC series "Nashville" was nothing sort of breathtaking (my goodness, talk about an integrated marketing communications plan), the best information nugget for me was on an earlier slide in her presentation pertaining to brainstorming ideas.
Vicki Dummer showed the funnel for how television program ideas move from pilots and spec scripts to fully produced television programs – both in the current television season and those television series that actually return for a second television season.
The Value of Brainstorming Ideas in Business
Typically, we expect 8% to 15% of the ideas from a brainstorming session to have near term viability. Obviously the brainstormed ideas that are fully developed (and ultimately successful) represent an even smaller percentage of the original pool of ideas.
That math is why you should look at brainstorming ideas as a numbers game, with greater potential success linked to generating many more initial brainstorming ideas.
So what do you the numbers look like for a television network considering new television program ideas?
The Funnel for Television Program Ideas
Here are the numbers from the 2011-2012 television season for ABC: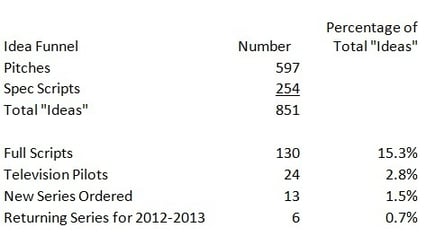 You're reading that right.
Out of 851 pitches and spec scripts ABC reviewed for the 2011-2012 television season, it ordered 130 full scripts. Put another way, if you consider 851 as the starting pool of ideas, the network found 130 worthy of turning into full scripts. That's 15.3% - a number right around the 8 to 15 percent range.
Ultimately, ABC ordered 13 new series, which means it took more than 65 ideas to turn into one television series. And of the new series last television season, only 50% made a return this year, meaning less than 1% have been successful, as measured by sticking around for a second year.
Brainstorming Ideas Is __________________
It was nice to see these percentages surface here in another creative scenario.
Yes, we repeat: brainstorming ideas is a numbers game. - Mike Brown
Download the free ebook, "Taking the NO Out of InNOvation" to help you generate fantastic ideas! For an organizational creative boost, contact The Brainzooming Group to help your team be more successful by rapidly expanding strategic options and creating innovative plans to efficiently implement. Email us at info@brainzooming.com or call us at 816-509-5320 to learn how we can deliver these benefits for you.