Extreme creative ideas are fascinating, and I always wonder about the processes people who consistently display extreme creativity use to come up with what they do. This fascination with extreme creative ideas prompted a series of "Extreme Creativity" Brainzooming blog posts starting back in 2010 to identify some of the lessons we can learn from these folks for how to dramatically improve creativity.
We now have 50 extreme creative ideas sprinkled across 10 articles on the Brainzooming blog. You will notice a definite reality TV theme to these extreme creativity sources. Included in these 10 articles with extreme creative ideas are also some focusing specifically on where extreme creativity can fits as a strategy and drawing your team into the possibilities.
Overview of Extreme Creative Ideas
Extreme creativity implies being able to implement your outrageously creative ideas. Fall short of that, and it's just playing around.
There is a Bugs Bunny cartoon where every time someone had a different type of hat on their head, they immediately took on the personality of that profession. Similarly, if you want your team to come up with and implement extreme creative ideas, give them titles that SCREAM "extreme creativity."
50 Extreme Creative Ideas
Buddy Valestro, the Cake Boss and owner of Carlo's Bakery in Hoboken, NJ, prompted the early posts on this list with his outrageous cake creations. In Buddy's world, cake is not necessarily what you would think of as cake. In the world of Buddy Valestro, cake can be wood, pipe, and Rice Crispy treats. And he is getting even more extreme now!
I'll admit to watching many, many episodes of Diners, Drive-ins, and Dives. Good thing I've only visited a handful of the restaurants featured, though. Guy Fieri and the proprietors of dives across the country are an incredible wealth of extreme creative ideas that start with food, but can extend to other areas as well.
Lady Gaga's HBO special got me interested in her extreme creative vision and how she seems to continually reshape her creative palette. As the post acknowledges, I don't agree with her on many of her perspectives, but you can't argue she's a force for outrageous creative ideas. BTW, sorry the video in this post was pulled down, but I've left it in the post just in case they are able to get it reinstated at some point.
The TED conference is always good for dramatic ideas. The 2012 TED conference was especially ripe for extreme creative ideas in healthcare, energy, and music, among other topics.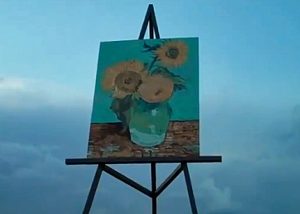 When I first saw a poster with Peter's Laws in a New Orleans poster shop, I realized it described the operating philosophy of one of the extreme creative forces in my life. This post takes some of Peter's Laws and turns them into questions you can use to dramatically improve creativity in your career.
This video of the world's largest Van Gogh sunflower painting in Goodland, KS plays to one of the core extreme creative idea lessons – GO BIG! – Mike Brown
Download the free ebook, "Taking the NO Out of InNOvation" to help you generate fantastic ideas! For an organizational creative boost, contact The Brainzooming Group to help your team be more successful by rapidly expanding strategic options and creating innovative plans to efficiently implement. Email us at info@brainzooming.com or call us at 816-509-5320 to learn how we can deliver these benefits for you.