A friend is heading to a business conference by herself today. Over the weekend, she mentioned she is nervous about going because of "everything: driving there, being there alone, not knowing anybody, whether or not to do the dinner cruise thing, just imagining walking into any of the socializing stuff, what to wear, what to do in my down time. Will probably just hide in my luxurious hut."
I told her she needs to make herself socialize and meet new people at the conference, suggesting she find a friendly face that also doesn't know anyone and become buddies. She was skeptical based on her most recent experience of showing up alone. As she recalled, "I stood around, walked around, smiled, said hi, introduced myself. Nothing. Except an angry nerd attached himself to me. No grownups were interested."
I suggested additional ideas, then realized: I was writing a blog post on how I, as an introvert, force myself to meet new people at conferences and business events. Granted, there are LOTS of other sources on this, but this one is based on my personal experiences.
Speaking is a central part of my personal conference networking strategy to meet new people. Speaking helps tremendously in getting people to approach you to chat. If you're the type of introvert that is fine getting up in front of groups and talking, that's my number one recommendation.
23 Ideas to Meet New People at a Conference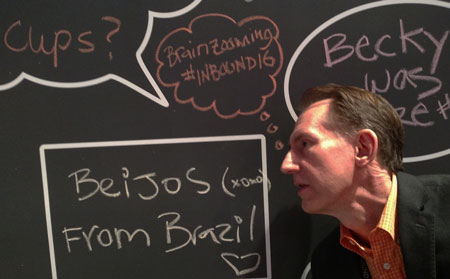 Here are things I've tried (or experienced) to meet new people at conferences where I am not speaking:
Way Before the Conference
#1. Try to convince someone to go with you so you know somebody.
#2. Do whatever you can to scope out the attendees and speakers upfront. Figure out if you have connections to any of them (or even to people in the city where you are headed), and arrange meetings. That's how I met Diane Black (who has done such great inforgraphics for us) and Mess Wright, both of whom inspired ideas that could re-shape the future of Brainzooming.
#3. Try wearing message clothing. By that, I mean wear a shirt that creates conversation, which may require pre-planning. I met this young woman at Inbound2016. With a shirt like this, I HAD to ask why she was looking for a new boss. I took photos and tweeted them to help her get attention. What message clothes can you create and wear to start converstations?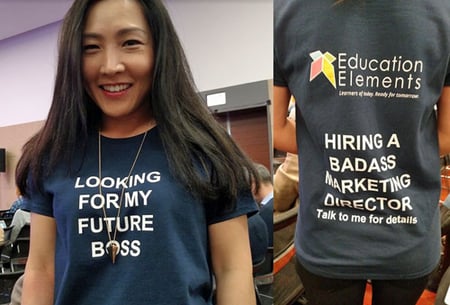 Right Before the Conference
#4. Pack the clothing or jewelry you own that most often generates comments from others. Wear those as conversation starters. (Orange socks, an orange watch, and all the other orange stuff I have prompt many comments and conversations. Even from other introverts! That's how I got to know Claire Denbo of engage5w.)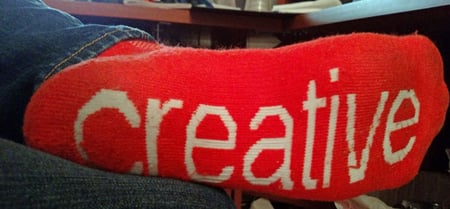 #5. PACK BUSINESS CARDS. ENOUGH SAID.
#6. Find out the conference hashtag(s) ahead of time, and begin monitoring them. Reach out to other attendees and speakers using the hashtag. Ask and answer questions to start building relationships.
#7. If there are free times for lunch or dinner, book a reservation for four at a nearby restaurant and start asking people you meet to join you (and bring friends). I tried this the first time at the GasCan conference; long-time friend Kathryn Lorenzen became my anchor guest, bringing two other friends, while I invited Mike Farag of Fervor. We had a fantastic lunch!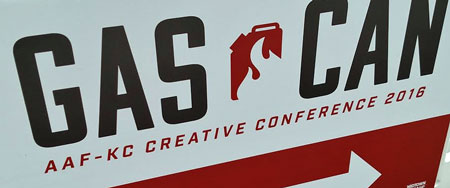 #8. Prepare a few open-ended, easy-to-answer multiple part questions to ask. Prepare to use them. Try, "Is this your first time at the conference?" If it is, ask why they chose it or what they are looking forward to at the event. If they are returning, ask why they came back, and what you should not miss. This helps you uncover experts you can depend on or refer others to for meet-ups.
Onsite Before the Conference Starts
#9. If the registration is informal, chat with the people handling registration. Let them know this is a new environment for you, and you'd love to meet new folks. Maybe even give them a card or two that includes a way to track you down onsite. Tell them if they come across anyone looking for a buddy, you're interested in hanging out with others.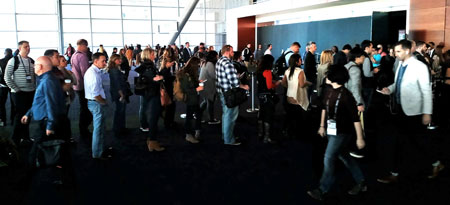 #10. Arrive early and get the lay of the land in and around the conference facility so you can easily answer questions. Take on the role of being an informal conference concierge since answering questions is a great way to meet people. Be ready to point people to where meeting rooms and bathrooms are, know how long it takes from the elevators to the conference area, figure out fun things to do, where to eat, and the closest convenience and drugstores.
#11. Get up to speed on the agenda in a deep way. Understand the event flow, themes for the day or evening, and when things are. This positions you to pipe up with answers and meet people that will be at your table and ask general questions about the conference hoping someone can answer them.
During the Conference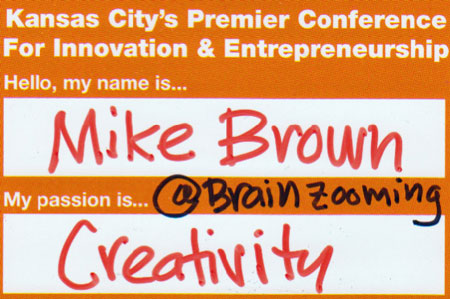 #12. Wear your nametag. Make sure it's visible. If it keeps flipping around, rig a binder clip to hold it in place.
#13. Be deliberate about your seating strategy at sessions with round tables. You can join a group and have people to start talking with right away (asking if a chair is free, introducing yourself, asking a question, etc.) Alternatively, you can scope out a table where no one is sitting. You then "own" the space and can play the role of a host. Either one works. One may suit you better than the other, though.
#14. Serve other people at the conference. Stock up on cough drops, mints, phone chargers, an extension cord, pens, and paper. Know how to download and use the conference app. Sit near the water pitcher at a table so you can offer to pour water or go get a drink for someone that just sat down. Be the one to get the Uber or car pool arranged. Those are easy ways for an introvert to meet new people and seem as if you are one of the most engaging people at the conference.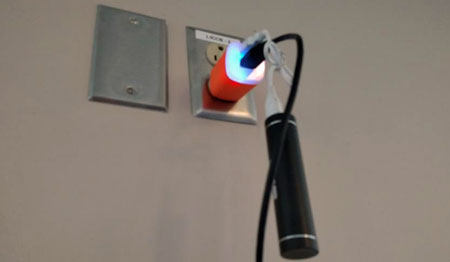 #15. Compare schedules with others. Learn what sessions they are attending. If it makes sense content-wise, give preference to sessions where you suspect you're going to find people you have already met. (While it wasn't a conference, this is why I, as a political science undergrad major, took a summer school accounting class: a woman I was interested in was going to be taking it, and so I just happened to be taking it, too.)
#16. Take advantage of social media to reach out and increase your visibility. Live tweet the sessions you attend (I've had people change sessions and meet me based on live tweets that made where I was sound more interesting.) Change the profile pics on social networks daily so they show what you look like and are wearing. This makes it very easy to spot you in a crowd.
#17. Type up your top ten take-aways from the day's events and publish a blog post that evening or before the conference begins the next morning. Share it using the conference hashtag so people notice you are there. Invite conference goers reading the post to reach out to you at the event to request your full set of notes afterward.
#18. Unless you are actively using your phone for networking with social media (be honest here), leave it in your purse or pocket. Don't make it look like your phone is your date for the event.
#19. Be careful with how you approach uber-confident, uber-outgoing, and uber-interested in telling everyone how great everything is people. I don't know about you, but they can suck away what networking energy I have and leave me beating myself up for not being more outgoing and successful. That means I, at least, must be very careful about how much time I spend trying to hang out around them.
Networking Events
#20. Sign up for networking events and excursions. Make yourself go. Boost your confidence that you can enjoy these events on your own, while you look for opportunities to share experiences with others!
#21. Know how much alcohol gets you to where you start being engaging. Be careful if you need to drive afterward, but get to that amount of alcohol early on at a networking event to loosen up your conversation skills.
#22. Find other people that are alone and appear uneasy but hopeful. Reach out to them, essentially offering them an opportunity to be a part of a posse. Invite them to the group lunch or dinner you are planning!
#23. Look for small groups at networking events, ideally with people you've seen at sessions during the day. Find a way to join them through proximity, listening, smiling, and shared interests (i.e., you all are at this event, were in some of the same sessions, and have drinks). Being around the crowd can be the right opening to start meeting other people on the edge of the crowd.
That's Not All the Ideas
I'm sure there are more ideas than this for an introvert to meet new people at a conference, but since this is probably the longest Brainzooming post ever, that's all for today! - Mike Brown