I was in Schererville, Indiana this week for an Idea Magnet creative thinking workshop with The Adventure Club. It is a before- and after-school educational program dedicated to helping children achieve academic success through EIEE (Enriching, Inspiring, Educating, and Exciting) and its proprietary Kid's Choice programs.
The 1/2-day Idea Magnets workshop included sixty leadership and staff who run the program and work directly with children. The creative thinking workshop represented another opportunity to share the Idea Magnets creative formula with childhood educators. It's always a privilege to work with the people who are shaping so many young minds.
One fun thing about moving Idea Magnets front-and-center in our keynote and workshop offerings is it provides an opportunity to develop and share new content, tools, and exercises. Some of this content hasn't had a place in our other workshops. Other stories and exercises have a different focus within the Idea Magnets creative formula. Still others are brand new, as we roll out and develop the Idea Magnets brand.
Changes we included in this workshop included: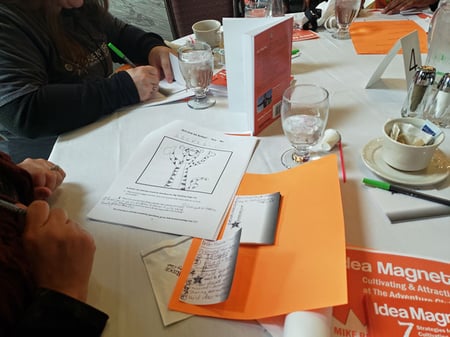 Going right from a "what are your current ideas today" exercise into Extreme Creativity questions, which takes creating thinking from run-of-the-mill to runaway wildness within minutes
Splitting the small groups from the front-to-back of the room by improvement opportunity, and from left-to-right by creative thinking exercise, resulting in a grid with many different combinations of opportunities and thinking approaches
Using real-world opportunities and challenges to teach techniques, allowing the group to practice as they developed ideas the organization could take back right away and consider for implementation
Introducing an Idea Magnets Creative Party where EVERYONE had a chance to exercise their creative muscles in new ways
Further developing the model that turns the book into an everyday Idea Magnets creative formula
All that, plus The Adventure Club folks brought horseshoe magnets to the event. How cool is that?
Want to see for yourself how you (and your team) can start applying Idea Magnets Approach?
Grab your copy of the book (and let us know if you want to buy them for your team) and/or contact us about bringing an Idea Magnets creative thinking workshop to your organization! – Mike Brown