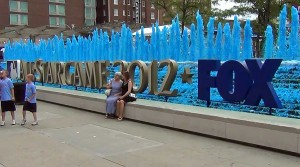 Other than a nasty case of New York-quality booing for Robinson Cano not selecting Billy Butler for the Home Run Derby, Kansas City (where The Brainzooming Group is based) seems to be receiving largely strong marks as host of the 83rd Major League Baseball All-Star Game. Talking with the Social Media Club of Kansas City crew running the Social Media Command Center Monday night, they had hardly seen any negative social media sentiment for Kansas City among the #KC (and #ASG) tweets they'd been monitoring and responding to for days.
I saw one visitor on the local news remark about how Kansas City, in contrast to larger cities hosting the All-Star Game, really provided a sense that the All-Star Game is the only show in town. That reaction is similar to ones often heard whenever Kansas City is fortunate enough to host a major event.
The strong positive sentiment for Kansas City may be surprising to the rest of the world, because Kansas City is easy to overlook.
Yet, when circumstances bring people to Kansas City as residents, they tend to stay here longer than they ever would have imagined. I think this dramatically different attitude from visitors once they are actually here is because Kansas City is an underdog type of town.
I've always been one to love an underdog, whether it is a city, sports team, brand, or even an employee I've hired. I love the person who is going to come in and surprise everyone by doing incredible things no one would have ever expected.
9 Reasons to Love an Underdog
Why do I love an underdog so much? Well, here are nine reasons to love an underdog since it:
1. Is motivated by knowing failure can bring disproportionate negative consequences.
2. Survives by exploiting the smaller opportunities it typically receives for all they are worth.
3. Lives and breathes trying to figure out how to rise above the expectations everyone has.
4. Is familiar with making low resource-high impact strategies work.
5. Displays the genuine humility that comes from knowing what it's like to have your head handed to you by a strong competitor.
6. Is better at taking advice and counsel because it's needed to continually learn and improve.
7. Has to try harder than other competitors do to succeed.
8. Isn't beyond bending the rules or playing a little rough to win.
9. Is going to be fiercely loyal to whoever believes in them.
What are your reasons to love an underdog?
Am I alone on this, or do you have a soft spot for underdogs as well? Are there other reasons to love an underdog you would add? Are there certain types of underdogs you like, or do you like all underdogs? I'd love to hear about your favorites! – Mike Brown
Download the free ebook, "Taking the NO Out of InNOvation" to help you generate fantastic ideas! For an organizational creativity boost, contact The Brainzooming Group to help your team be more successful by rapidly expanding strategic options and creating innovative plans to efficiently implement. Email us at info@brainzooming.com or call us at 816-509-5320 to learn how we can deliver these benefits for you.