There are multiple types of people I love, including :
Those that patiently build success by deliberately following a plan
People that display unwavering loyalty
A leader willing to a make decision not in his or her own best interests because it's the right thing to do
Those that prize honesty, openness, and vulnerability over gamesmanship, manipulation, and never failing to exploit any advantage
I don't know how correlated all of those characteristics are with people that have successful strategic relationships.
An article in The Kansas City Star about Dayton Moore, the general manager of the Kansas City Royals, however, suggests all of these characteristics intersect in how Moore has rebuilt the Royals and created a positive organizational culture.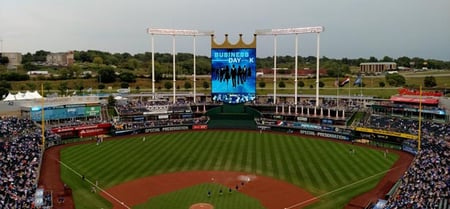 If I were to attempt to summarize the great lessons about strategic relationships in the article here, I would wind up repeating all the quotes from Dayton Moore and those speaking about how he does business.
So if you want to learn rich, meaningful lessons in the right way to approach strategic relationships, read the article by Vahe Gregorian from Sunday's Kansas City Star.
For any of our readers that try to cultivate strong strategic relationships and the personal characteristics listed above, it will be well worth your time to leave this article right now and go read up on how Dayton Moore does business. Even if you AREN'T a baseball or Kansas City Royals fan!
Trust me! - Mike Brown
Download our FREE "Taking the No Out of InNOvation eBook to help generate extreme creativity and ideas! For organizational innovation success, contact The Brainzooming Group to help your team be more successful by rapidly expanding strategic options and creating innovative growth strategies. Contact us at info@brainzooming.com or call us at 816-509-5320 to learn how we can deliver these benefits for you.