The other day a Brainzooming reader told me I was the oldest person she knew creating social media content all the time.
Then she said it was a compliment.
Then we both laughed.
That was followed by an awkward pause.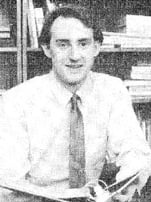 While her statement clearly CAN'T BE TRUE, being relatively seasoned in business means I HAVE learned many valuable career lessons that would have been great to know when my business career started at Kansas City Infobank.
Going back through recent tweets, here are 9 career lessons for YOUNGER Brainzooming readers from further into a business career:
1. View your entire business career as a portfolio. Manage every element of the portfolio to create your "art."
2. As a species, humans chase after lots of things we think will be glorious that will really make us miserable.
3. It's okay to have a list of things you'll never do and then to let them go without a second thought.

4. Don't correct someone who has a better perception of you than you have of yourself.
5. Some things we demand answers for are completely insignificant. Keep moving forward.
6. If you read a business case study in a magazine, it's likely a highly fictionalized work by that point.
7. The thing that pisses you off may just be what saves you. Next time you're mad, look for what you should be learning.
8. Never underestimate the positive value of a fresh start. They're incredible. Seek fresh starts out.
9. No amount of helpful advice can really outshine someone making a personal sacrifice to help another person.
Anybody else with a few years of experience have some lessons to add? - Mike Brown
If you'd like to add an interactive, educationally-stimulating presentation on strategy, innovation, branding, social media or a variety of other topics to your event, Mike Brown is the answer. Email us at brainzooming@gmail.com or call 816-509-5320 to learn how Mike can get your audience members Brainzooming!