We've all been to a professional development conference that turned out to be a stinker.
And by "stinker," I mean the conference presentations are weak, too many people are selling stuff vs. being there to learn, and the conference producers seem to have not put meaningful thought into creating a productive conference experience.
Wouldn't it be nice if you could tell upfront if a professional development conference is going to be a stinker so you can avoid it?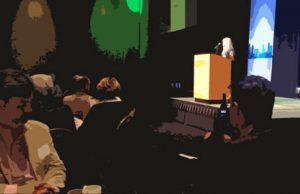 8 Warning Signs
Here are eight warning signs to look for to better understand upfront whether a pending conference could turn out to be a stinker:
Are details sketchy on speakers and sessions?
Every time you go to the website, does it look like there have been lots of changes in conference speakers, with some conference speakers being swapped out with others?
Are topics listed without any mention of specific speakers?
Is there tremendous overlap between the named sponsors and the companies of the conference speakers?
Is it difficult to find specific information about the speakers other than on the conference website?
Does there appear to be minimal diversity among speakers, especially with respect to demographics and relevant experience histories?
Are there limited choices attendees can make among content (i.e., not enough separate tracks upon which to customize an attendee's program)?
Is there a heavy reliance on panel discussions that appear hastily thrown together?
If you answer, "Yes," to most of those questions, it's probably going to be a stinker of a conference.
How do you decide a professional development conference could be a stinker?
That's my list.
What do you look for to spot a professional development conference that seems like it is going to be a stinker? - Mike Brown
Download the free ebook, "Taking the NO Out of InNOvation" to help you generate fantastic new ideas! For an organizational creativity boost, contact The Brainzooming Group to help your team be more successful by rapidly expanding strategic options and creating innovative plans to efficiently implement. Email us at info@brainzooming.com or call us at 816-509-5320 to learn how we can deliver these innovation benefits for you.