Yesterday's Brainzooming mega-post was about how an introvert can go solo and still comfortably meet new people at a conference. I'm happy to report my initial audience of one for the mega-post used it with great success yesterday.
Before the event was set to start, she messaged me: amid her thanks for the post's help, she mentioned planning to skip the opening keynote because it didn't seem as if she'd learn anything. Thanking her for her graciousness, I asked if I could offer one more piece of advice.
She responded, "Don't skip the opening keynote?"
"EXACTLY," I replied.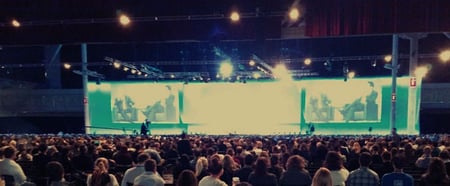 She offered several reasons why she couldn't make it. I suggested going for the last 30 minutes of the 90-minute talk. The reason? Part of the whole introvert trying to meet new people at a conference strategy depends on creating as many shared experiences with others as possible. Shared experiences are bonding opportunities and future conversation starters. People will be talking about the opening keynote at the next session. If she missed it, she'd already be left out of the conversation, reinforcing any views that this conference would be a lonely experience.
My cajoling worked. She attended the opening keynote.
And guess what? People were laughing, enjoying it, and she learned things!
Uh huh.
If you can avoid it, NEVER skip the opening keynote. Beyond the reason I shared with her, here are five others:
Getting there early allows you to scout the best spots to sit. You can also size up the crowd and see if there's anyone you know that you can hang out with from the start.
If the conference is a good one, there should be a snazzy opening. Sure, there are plenty of conferences that DON'T have snazzy openings. If your conference does, though, you won't get to see it again if you skip the opening keynote.
The conference opening delivers the setup for the entire conference: the key themes, flow, and take-aways to look for during your time there.
In all likelihood, the opening keynote will be one of the top two or three speakers: maybe the best one. Even if you think you won't learn anything, the speaker's energy and message will likely be worth going.
If the opening keynote sucks (which I've seen happen plenty of times), you can always write a blog post about how not to be a big-time speaker!
Trust me: NEVER skip the opening keynote at a conference! Mike Brown
Download our FREE "Taking the No Out of InNOvation eBook to help generate extreme creativity and ideas! For organizational innovation success, contact The Brainzooming Group to help your team be more successful by rapidly expanding strategic options and creating innovative growth strategies. Contact us at info@brainzooming.com or call us at 816-509-5320 to learn how we can deliver these benefits for you.