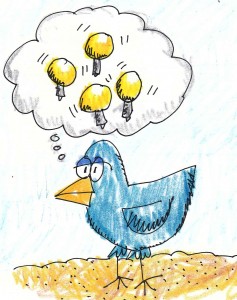 I know you know I think Twitter is an incredibly valuable random input tool to be more creative. Here are 7 ideas for how you can exploit Twitter for instigating creative ideas when you most need them:
1. You're searching for more creative blog topics.
Watch the Twitter stream for interesting headlines (i.e., "4 Communication Traits of Successful Leaders"). Without reading the original blog post, write a comparable blog based around the same idea featuring your thinking on the topic.
2. You want artistic ideas.
Take a statement-oriented tweet (i.e., "The night has come . . . pour yourself into your Friday night") and build on it as a creative idea starter for a story, poem, or song. You could also use it as your inspiration for a drawing, painting, or dance, too.
3. You're looking for answers.
Pose a question about a topic where you need creative ideas. Direct the question to specific persons (@ them) or use popular hashtags to increase the question's exposure. Unless you've cultivated a tight community of people you interact with, just throwing a question out into the Twitter stream won't be very productive.
4. You need a steady stream of creative ideas.
Cultivate your own group of creative, frequent tweeters you can interact with on a regular basis to share creative ideas with one another. Your group can provide a wonderful source of creative instigation on an ongoing basis to help you be more creative.
5. You have a specific topic where a creative boost is needed.
Search for tweets which include your keyword/topic of interest along with a question mark (i.e. creativity ?). You'll get a sense of other people potentially struggling with similar creative challenges on Twitter. You can try to start tweeting creative with them about your common interests.
6. You want informal reactions to a creative idea.
Suppose you already have creative ideas, but you aren't sure which to pursue further. Share creative ideas via Twitter as a way to "workshop" them with reactions from real people (okay, and maybe from a few bots). Use retweets and the conversations specific ideas start as a crowdsourced indicator of where to invest your creative pursuits.
7. Your creative block is about what to tweet.
Sometimes even generating 140 creative characters feels impossible. Look for interesting tweets in your tweet stream and share reactions to them. Say somebody tweets about having crashed and slept for 10 hours. You could tweet: "If you find #creativity lagging, maybe you're exhausted? Make time to get TOO MUCH sleep tonight." You've borrowed some creative inspiration and been able to offer a creative idea you didn't have before.
Wrap-up
These ideas have all worked for me. Are you using Twitter to be more creative? What creative idea starters work for you on Twitter or other social media channels when you're searching for how to be more creative? – Mike Brown
Download the free ebook, "Taking the NO Out of InNOvation" to help you generate fantastic ideas! For an organizational creativity boost, contact The Brainzooming Group to help your team be more successful by rapidly expanding strategic options and creating innovative plans to efficiently implement. Email us at info@brainzooming.com or call us at 816-509-5320 to learn how we can deliver these benefits for you.